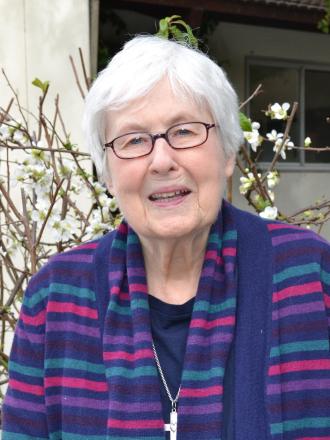 Birth: April 21, 1932
Profession: September 15, 1955
Death: February 16, 2017
A religious sister for sixty-four years, Joanne was born on April 21, 1932 in St. Joseph, Missouri and was the daughter of Edward Luke Fitzpatrick and Marie Johanna Fahey Fitzpatrick. One of five children, she attended the Convent of the Sacred Heart in St. Joseph, Missouri. After graduation Joanne entered the Society of the Sacred Heart in 1953, took first vows in 1955 and made her final profession on February 4, 1961 in Rome, Italy.  An alum of Duchesne College in Omaha, Nebraska, Joanne earned a B.A. in English in 1961. She went on to graduate studies at Northwestern University in Chicago, Illinois earning an M.A. in Counselor Education in 1970, and an M.A. in Religious Studies from Saint Louis University, St. Louis, Missouri in 1985.
For twenty-five years, between 1956 and 1981, Sr. Fitzpatrick taught in Sacred Heart Schools, both elementary and high school in Omaha, Nebraska, Lake Forest, Illinois, St. Joseph, Missouri, and Chicago. While enrolled in the master's program at Saint Louis University, she joined the faculty of Nerinx Hall, an all-girls school in Webster Groves, Missouri operated by the Sisters of Loretto, where she served as religion teacher and academic counselor for nine years. In 1994, she was appointed academic counselor at Duchesne Academy in Houston, Texas, where Joanne mentored students and faculty. She returned to Omaha in 2000 as an academic counselor at Duchesne Academy and remained there until 2012 when she retired from active ministry and moved to the Oakwood community, a retirement community for religious sisters in Atherton, California. Joanne's influence was profound and touched so many in the Sacred Heart family. A former student who shared about Joanne on Facebook received over 175 messages wishing her well. The messages and some pictures were then printed and compiled in a photo album for Joanne to enjoy. 
This past fall, it was determined that Joanne had what appeared to be a possible cancerous tumor of the pancreas. Joanne did not want a biopsy and did not want surgery or treatment. She told her doctor, "I am 84 and have had a good life." As her symptoms worsened she continued with her life with pain medication and monthly doctor appointments. This past December, Joanne was admitted to hospice and continued to decline. Her two sisters and a niece visited and were a great comfort to Joanne. On January 21st, Joanne was anointed after Mass surrounded by her three family members and her community at Oakwood.
On February 16, 2017, Joanne made her final journey home. She is survived by her two sisters, Rosemary Haug, of La Crosse, Wisconsin, Peggy Rigaud of Montpellier, France, many devoted nieces and nephews and her Sisters in the Society of the Sacred Heart.
A Funeral Mass will be celebrated on Saturday, February 25th at Oakwood. Burial will take place following the funeral in Oakwood's cemetery.
A Memorial Mass will be celebrated by the family at St. Francis Xavier Church in St. Joseph, Missouri on Saturday, April 29 at 1:00 p.m.
Memorial Contributions may be made to the Society of the Sacred Heart, 4120 Forest Park Avenue, St. Louis, Missouri 63108.