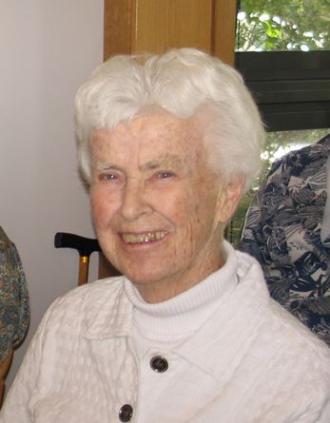 Birth: July 9, 1925
Profession: April 25, 1962
Death: August 5, 2016
Religious of the Sacred Heart, Ann Marie Conroy, RSCJ died August 5, 2016 in Atherton, California
Ann Conroy was born on July 9, 1925 in Belle Harbor, New York, and was the younger of two daughters born to Gardiner Conroy and Marie McGoldrick Conroy. Her father, an avid horseman, joined the National Guard in order to keep his horse in New York City, a fact which led to his early induction into World War II just after Pearl Harbor. Tragically, he was killed in the Pacific in 1943 – a devastating loss to the family. 
Ann was raised in Manhattan and attended local schools. She began her undergraduate studies at Manhattanville College in 1943, preferring to stay close to home as her sister was newly married and her mother was a young widow. Ann graduated in 1947 with a bachelor's in history and a minor in English. It was here, during her first retreat, Ann began considering a vocation to religious life. Ann was often described by her school-mates and throughout her long career in ministry as "always peaceful and full of joy."
After graduation, Ann worked for a year at Proctor and Gamble, and in 1948 entered the Society of the Sacred Heart at Kenwood, in Albany, New York. In 1950, Ann became very ill and had to leave the novitiate. It was also during this time her mother needed her. After Ann recovered, she worked for nine years beginning in 1950 as an Assistant Director for Media Research at Compton Advertising in New York. When her mother died suddenly of a heart attack, Ann re-entered the Society in 1959 and took First Vows in 1962. In the words of another novice, "Her maturity and giftedness were obvious." When she was assigned to the high school at Greenwich, she was described by this same person as "an excellent Surveillante, a woman who is grounded, intelligent, hardworking, relational, with great love of the Society, and a woman of prayer." From 1965 to 1967, Sr. Conroy held the position of Assistant Treasurer and Director of Financial Aid, handling all aspects of the Business Office, including budgets, serving as Secretary to the Board of Trustees, and managing all financial aid grants. In her spare time she coached hockey teams!
In 1965, Ann left for Rome and Final Profession which took place on July 20, 1967 after which she returned to Manhattanville and for the next four years she once again was responsible for financial aid and held the position of Dean of Students. In 1971 while living at the Provincial House in Chicago, Ann became a staff person for the Interprovincial Board, doing research analysis, attending IPB meetings, doing future planning and visiting schools across the country. She was named Mistress of Novices at Beacon Street in 1972. One of her novices commented, "The novices loved her and deeply respected her."
From 1975-1982, Ann was Provincial of the New York Province. It was during this time, the Society in the U.S. moved to a one-province structure. Ann was described by another provincial who served with her, for "her strength and discipline and sense of duty" which enabled her to carry on as she faced great physical pain.  Ann suffered through back and heart surgeries which she faced with courage and resilience. She could always be relied upon and never shied away from difficult situations even when her provincial team was not in accord. As provincial, Ann had brief international experiences in Latin America, Kenya, Egypt, Mexico and England. She attended two General chapters and between 1982 and 1984 she was a consultant for long-range planning, assisting the Religious Sisters in the Congo, Africa. As a delegate to the 1982 Chapter, Ann was involved in the re-writing of the Society Constitutions, eventually giving workshops on the Constitutions in Korea, the Philippines, Taiwan and Japan. 
Anne was known for her exemplary leadership in Sacred Heart Schools. In July of 1984, she was invited to become Director of Schools at Broadway, in San Francisco, California, a ministry she devoted herself for ten years. It was during her time at Broadway that she presided over the 100th anniversary of the schools.  Ann also fulfilled Broadway's dream of erecting a regulation-size gymnasium.
For nearly twenty-one years, Ann served as a Trustee on the boards of Manhattanville College, Kenwood, New York, Sacred Heart Schools, Menlo Park, California, Schools of the Sacred Heart, San Francisco, California, Academy of the Sacred Heart, Bloomfield Hills, Michigan, the Board of Directors and Executive Committee at the Network of Sacred Heart Schools, Executive Committee at the Multi-Cultural Alliance of the Bay Area Independent Schools and Board of Directors for Project Discover. She also served as Trustee at the College from 2006-2015, culminating in thirty years of administrative service to Manhattanville. In addition to her undergraduate degree in history, Ann earned a master's degree in History and was awarded a Doctor of Humane Letters from Manhattanville College in 1996. 
In 1994, Ann became the Assistant Head and interim Upper School Director at the Convent of the Sacred Heart in Greenwich, Connecticut.  Many who knew her commented that "Ann had a very active ministry at Greenwich where she was responsible for the Children of Mary and part of the Development Team because of her long history with the school.  She often subbed for the theology teachers and was in fact a friend and confidante to many of the faculty. Ann loved people where a leisurely meal and conversation was a gift to those who shared her company. She has a special love for her niece, Vicki, who lived on Long Island, and spent every holiday with Vicki and her husband, Les.
Ann was also a revered spiritual director especially to her Sisters. One directee shared that Anne supported her during a difficult time in her life as she was involved in a long and complex discernment of ministry. Ann, along with her Provincial Team worked together to support a series of decisions which spoke of Ann's excellent teamwork, an example of how to make decisions in the light of the Holy Spirit. Another directee expressed how Ann listened intently and had both sensate and intuitive gifts. She challenged lovingly and her humor gave her a lightness of touch. Ann served as a loving guide allowing great spiritual freedom to those she directed, always keeping herself in the background.
During her years at Greenwich, Ann volunteered as an English tutor at the Bedford Hills Correctional Facility, a maximum security prison for women in New York State and the only one of its kind which offers the college program.  While health issues gradually forced Ann to relinquish her work at Greenwich, Ann continued to volunteer at Bedford. Ann describes graduation day at Bedford Hills in 2003 for eighty-one women, saying that while she has participated in many graduation exercises at outstanding universities, colleges, schools, even kindergartens, none evoked the emotions of pride and hope for the future as this ceremony at Bedford. She goes on to say that "Education can and should be transformative. Lives can be turned around." Ann had the true heart of an educator making a difference to women whose lives were impacted by her intelligence and love.
As Anne's health declined, she continued with her volunteer work and visiting family members. In January of 2012, Ann suffered a serious stroke. With her speech affected by the stroke, Anne moved to the Oakwood retirement center for the Religious of the Sacred Heart in Atherton, California, where she returned to a large welcoming group of old friends. Ann's presence at Oakwood was an inspiration. Even though she was unable to communicate verbally, Ann attended all the functions of the Oakwood Community, exhibiting warmth and affection wherever she was-often through eye contact alone! On August 5, 2016, Ann made her final journey home, surrounded by her sisters.
Ann is survived by her niece, Vicki (Les) Black, her nephew F. Briggs Dalzell, Jr., many cousins and friends and her Sisters in the Society of the Sacred Heart.
A funeral mass for Ann was celebrated on Saturday, August 20, 2016 at 10:00 a.m. in the Oakwood Chapel.  Burial took place in the Kenwood Cemetery, in Albany, New York on August 24, 2016.
Memorial contributions may be made to the Society of the Sacred Heart, 4120 Forest Park Avenue, St. Louis, MO 63108.