Provincial Suzanne Cooke, RSCJ, and her team of Sisters Imma De Stefanis, Marina Hernandez and Lynne Lieux provide leadership and set direction for the United States – Canada Province.

Suzanne Cooke, RSCJ
Sister Cooke most recently served as the head of the Conference of Sacred Heart Education and has held numerous leadership positions as an educator. Notably, she served as head of school at Forest Ridge School of the Sacred Heart in Bellevue, Washington, from 1990-1998, and at Carrollton School of the Sacred Heart in Miami, Florida, from 1998-2015. She has served on the board of trustees at several Network of Sacred Heart schools and as a member of the Sacred Heart Commission on Goals, the Network of Sacred Heart Schools board, the Northwest Association of Independent Schools and Florida Council of Independent Schools.
In 2000 and 2016, Sister Cooke was a delegate to the General Chapter of the Society of the Sacred Heart, the governing body of the international Society that represents all RSCJ. She holds a bachelor's degree in English and history, cum laude, from Manhattanville College in Purchase, New York, and an interdisciplinary Master of Arts in social sciences from the University of Chicago.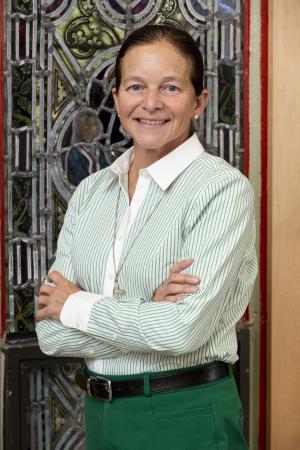 Imma De Stefanis, RSCJ
Sister De Stefanis is a lifelong educator and published author who began her career at the middle and high school levels as both teacher and administrator. She later moved to higher education where she held an administrative post-doctoral position at Harvard University and taught in the psychology department at Boston College. Sister De Stefanis also held several positions at Manhattanville College including academic dean followed by a dual appointment as assistant professor in the psychology department and vice-president of student development.   
She is the founding director of the Stuart Center in Washington, D.C. She is a co-founding partner and has served as the director of Sherpa Educational Consulting at the Stuart Center, which provides organizational management and leadership training services to nonprofit organizations and schools.
Sister De Stefanis holds a bachelor's degree in English from Pace University in New York, New York; a master's degree in curriculum from University of California, Berkeley and a doctorate in applied developmental and educational psychology from Boston College. She is also fluent in Spanish.

Marina Hernandez, RSCJ
Sister Hernandez is currently the co-chair of the province investment committee. She is a member of the Oakwood Retirement Center advisory board and a member of the province finance committee. She has served on six previous provincial teams from the former Chicago Province, the former United States Province and the now United States – Canada (USC) Province of the Society. She also served as the canonical treasurer for the USC Province and the provincial treasurer for the former Chicago Province of the Society.
Sister Hernandez's ministries over the years have included: business manager at Woodlands Academy of the Sacred Heart in Lake Forest, Illinois; community organizing, housing counseling and AIDS training in San Diego, California; and work with refugees and undocumented persons in Indiantown, Florida. She currently serves on the boards of trustees for Saint Madeleine Sophie's Center in El Cajon, California, and Faith in Action, a national faith-based community organizing network.
Sister Hernandez graduated from the former Barat College in Lake Forest with a Bachelor of Arts in psychology. She also attended University of Notre Dame for graduate certificates in financial management and administration.

Lynne Lieux, RSCJ
Sister Lieux attended the Academy of the Sacred Heart in Grand Coteau, Louisiana, as a boarding school student. After receiving her bachelor's degree in mathematics from Maryville University in St. Louis, Missouri, she spent her first year in the Society at Villa Duchesne and Oak Hill School in St. Louis teaching math and physics. She received her master's degree in physics from Washington University in St. Louis and her doctorate in educational administration from the University of New Orleans.
Sister Lieux has spent most of her adult life working in Network of Sacred Heart schools as a teacher, dean of students, upper school head, and head of school. She has served as a trustee at several Network of Sacred Heart schools and at Maryville University. She is currently on the board of trustees of the Academy of the Sacred Heart in Bloomfield Hills, Michigan; on the advisory board of St. Scholastica Academy in Covington, Louisiana; and working with the Jacobs Institute on Innovation in Education at the University of San Diego.