SacredHeartDNA
SacredHeartDNA is an initiative from the Young Adult and Vocation Ministry Office of the Society of the Sacred Heart, United States – Canada Province. This initiative brings together an intergenerational group of young adults and Religious of the Sacred Heart (RSCJ) – Catholic Sisters who are members of the Society of the Sacred Heart – and aims to create spaces and opportunities for young adults and RSCJ to connect, grow in faith, build community and take action.
We believe a common thread, or DNA, unites all who've experienced the Society of the Sacred Heart's mission to discover and reveal God's love in the heart of the world, and this DNA is reflected in five core values.
Five core values of SacredHeartDNA

PERSONAL INTEGRITY
The alignment of heart, mind, and will so that actions match personal beliefs.

SPIRITUALITY
A conscious formation of interior life by engaging in contemplative practices and prayer.

BELONGING & COMMUNITY
A desire to form authentic relationships and a genuine understanding of the importance of community.

ACTIVE CITIZENSHIP
A belief in the inherent dignity of all and a commitment to serving the common good.

TRANSFORMATIVE ACTION
Collaborative actions in favor of a dignified life for all that flow from a spirituality connected with the heartbeat of the world.
"We want to continue to walk with young people. Many have a passion for justice and a concern for the future of the planet. Others are marginalized, lost and have no sense of any future for their world or themselves. Some have a desire to give their lives generously in the service of others. We need to be present with them all in their search for God, meaning and the value of life."
– Society of the Sacred Heart, General Chapter of 2008 Document
SacredHeartDNA Launch Video
Belong and Act as One: Discovering Our SacredHeartDNA
Twenty-three young people connected to the Society of the Sacred Heart and five Religious of the Sacred Heart (RSCJ) journeyed to Rome in July 2023 in anticipation for the World Youth Day in Lisbon, Portugal. The group-representative of four countries, gathered at the historic Villa Lante—on whose grounds Society founder Saint Madeleine Sophie Barat once walked, and which currently houses the Society's general archives. Participants explored and deepened their understanding of the history and roots of the Society of the Sacred Heart as well as grew as a community before traveling to Lisbon together for World Youth Day.
Learn more about the program and get a firsthand look at the experience through a series of videos (click here).
SacredHeartDNA hikes El Camino De Santiago
In May 2023, six young adults and Diane Roche, RSCJ, participated in El Camino de Santiago (The Way of St. James) spiritual pilgrimage in Spain. The group walked a portion of the Camino route called "The English Way," walking for one week from the city of Ferrol in northwest Spain to the tomb of St. James within the Cathedral of Santiago de Compostela.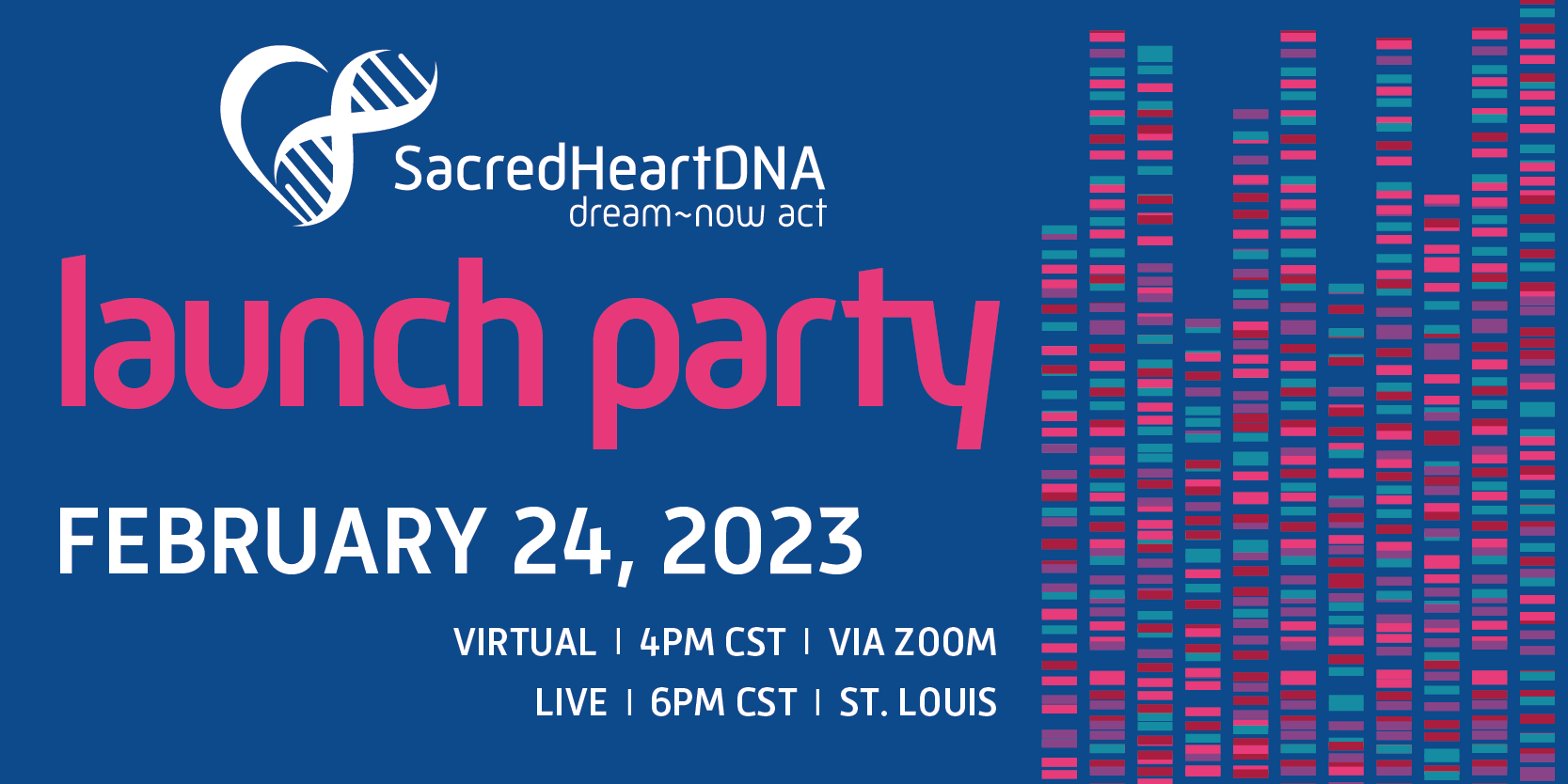 Over the course of 2022 and the beginning of 2023, the SacredHeartDNA Team had been working on projects and initiatives that create forums to connect with young people, ages 17-35, from within and beyond the Sacred Heart family. These opportunities to establish connections across generations centered around the five key characteristics of SacredHeartDNA – Personal Integrity, Spirituality, Belonging & Community, Active Citizenship, and Transformative Action.
In keeping with the DNA name, the SacredHeartDNA team had been dreaming up ideas, and was ready to act. The official launch of SacredHeartDNA took  place on February 24, 2023, in two different forms – virtually and in-person in St. Louis, Missouri.
Young Adult Engagement Week
Young Adult Engagement Week (January 23-27) is 5 days of creating intentional space through this instagram channel for young adults to connect and dialogue with each other and with members of the SacredHeartDNA team. We want to hear from YOU and learn TOGETHER. Follow us on Instagram and check in everyday for ways to connect, share and learn more about SacredHeartDNA.

Connecting Generations Through Our Shared Purpose
Part one of this two part Zoom series is a presentation focuses on understanding Gen Z's values, needs, and hopes and the intersection between these values and the mission of the Society of the Sacred Heart. 
Dr. Josh Packard, Executive Director of Springtide Research Institute on "The State of Religion and Young People" followed by a panel of speakers on "The Intersections of Our Shared Sacred Heart DNA."