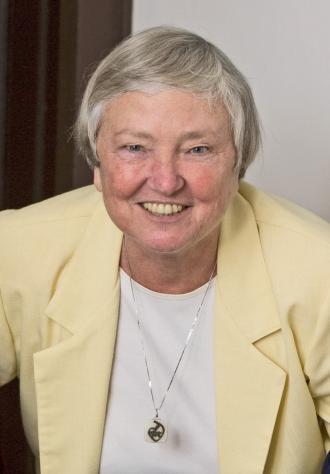 Birth: September 1, 1938
Profession:  May 4, 1963
Death: January 8, 2017
A religious sister for fifty-six years, Anne was born on September 1, 1938 in Long Beach, California and was the daughter of James Francis Byrne and Annchen Kliegl Byrne. Her father, James Byrne was an admiral during World War II leading the war in the Pacific. Her mother's, family founded the Kliegl Brothers Universal Electric Stage Lighting Company. The first "Klieglight" was designed for the motion picture industry.
A Sacred Heart alum, Anne attended Stone Ridge School of the Sacred Heart briefly and graduated from Manhattanville College in 1960 with a degree in Mathematics. Following graduation, she entered the Society of the Sacred Heart in 1960 at Kenwood in Albany, New York. Anne made her first vows on May 4, 1963 at Kenwood and her final profession on September 27, 1969 in Greenwich, Connecticut. During her early years of teaching middle school students at Kenwood, Anne also earned a master's degree in American History in 1965 from Manhattnville College.  Anne later enrolled at the University of Notre Dame in Indiana earning an M.S.A. in Administration in 1978. 
After first vows, Anne's work was centered on teaching elementary students at Sacred Heart Schools in Albany, Rochester and New York City. She also served for one year as Treasurer at the Convent of the Sacred Heart at Rochester.  Following probation, Anne worked in administration as head of the boarding school and also taught high school classes at Convent of the Sacred Heart in Greenwich, Connecticut.  While serving as Dean of Students and teaching high school at the Academy of the Sacred Heart in Bloomfield Hills, Michigan, Anne helped lead the American Experience, a cross-country summer camping experience meant to bring Sacred Heart students together as they learned more about the history of the United States.  Beginning in 1982, Anne was named Head of Upper School at Bloomfield Hills, a position she held for six years.
Following a sabbatical, Anne joined the Farm Staff at the Convent of the Sacred Heart at Greenwich.  In 1990, Anne moved to Grand Coteau, Louisiana, where she was named Head of the High School.  She served as head for three years before joining the staff of New Life Center in Opelousas, LA as the Educational Director. She continued to live in Grand Coteau and interact with the people of the town while working with women and children in the shelter at New Life. Anne loved her work at the Center and remained there until 2005 after which she was called to serve on the Provincial Team and moved to St. Louis, Missouri.  In conjunction with her work in St. Louis, Anne was the Interim Head of the Center for Educational Design and Communication (CEDC) in Washington, D.C., and a staff member at Sprout Creek Farm in Poughkeepsie, New York, working in education. 
Anne also served on the Network of Sacred Heart Commission on Goals (1985-1992), the Academy of the Sacred Heart Board of Trustees in Grand Coteau (1999-2005), St. Ignatius' School Board in Grand Coteau (1993-2002) and on the Pastoral Council of the Diocese of Lafayette, Louisiana (2000-2003). 
Anne returned to her beloved South in 2012 and joined the Duchesne House Community where she helped to host high school and college students and was a guiding light to all who stayed there.  Anne's spirit of selfless giving was brought home in the day-to-day activities of Duchesne House.  Her motto, "to live gratefully and simply each day," was a powerful example to the students!  Anne is fondly remembered by these students for her passion about her work and her generosity. Anne had a special love for the poor and was tireless in addressing their needs.  She was happiest when working among the poor whether in Grand Coteau, Opelousas, or in the rebuilding of New Orleans after Katrina.
Despite being totally engaged in the work of Duchesne House, Anne found time to receive a certificate in spiritual direction. She provided spiritual guidance to Sacred Heart faculty and staff as part of the Busy Persons Retreat Staff, to the Sacred Heart Associates and to the Children of Mary of the Academy of the Sacred Heart, New Orleans.
A life-long friend, Maura Keleher, RSCJ, remembers many happy times celebrating News Years with Anne and her family for nearly thirty years.  Maura goes on to share that Anne never met a stranger and was friends to all.  Her enthusiasm for life and people were contagious!
On Sunday, January 8, 2017, Anne was on her way home from church when she collapsed.  She was taken to the hospital where she later died.  Anne's sudden death was sorely felt by her Sisters, most especially Bonnie Kearney and all the New Orleans communities.  Her loss was felt by former students and friends as well as the many students and collaborators of the Sacred Heart whose lives she touched through her work at Duchesne House.  A student group from St. Anselm College in Manchester, New Hampshire were with Anne at church before she died. They dedicated their week of service in honor of Anne, hoping to immerse themselves in the work for which she was most passionate.  
Predeceased by her parents and two brothers, Anne is survived by her sister, Sue Byrne Fitzgerald, of Stony Brook, New York, many nieces and nephews and her Sisters in the Society of the Sacred Heart.
A Sharing of Memories will be held on Friday, January 20th, 7:00-9:00 p.m. at Community Book Center, 2523 Bayou Rd., New Orleans, Louisiana 70119.
A Memorial Mass will be celebrated on Saturday, January 21st, 9:30 a.m. at Our Lady of Guadalupe Church – The International Shrine of St. Jude, 411 N Rampart Street, New Orleans, Louisiana 70112.  Burial will take place 2:00 p.m. at the Schools of the Sacred Heart Cemetery in Grand Coteu, Louisiana.
Memorial Contributions may be made to the Society of the Sacred Heart, 4120 Forest Park Avenue, St. Louis, Missouri 63108.