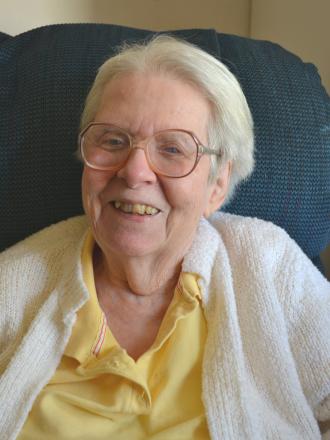 Birth: September 16, 1920
Profession: July 30, 1949
Death: April 2, 2016
Born on September 16, 1920 in Elmwood, Nebraska, Catherine was the daughter of Edward Theodore Seiker and Mary Cecilia Stander. She was the oldest of five children and grew up on a farm in the small town of Elmwood. Catherine enjoyed her twelve years attending the local public school. One day, walking home from school, proudly wearing her new red sweater, Catherine took a short cut home, where the red in her sweater must have caught the eye of a bull who promptly started to charge her. Luckily, a passing motorist jumped out and rescued her just in time!
Catherine's association with religious sisters was through the sisters who taught catechism during the summer, and the two religious sisters of her mother, who were Sinsinawa Dominicans. 
After she graduated from high school, Catherine received scholarships to the University of Nebraska, Creighton University, and Duchesne College in Omaha, Nebraska. She enrolled and boarded at Duchesne College in Omaha. She came home only three times a year, Thanksgiving, Christmas and Easter. Catherine was interested in majoring in mathematics but she was discouraged from doing so, when "Mother Casey told me that enrolling in math classes would make me a one-sided person," so she did not enroll in any math courses!
Catherine's vocation was felt as a very young girl.  During her sophomore year in college, she requested to enter the Society of the Sacred Heart and was accompanied by two religious sisters on her very first train ride from Omaha to Chicago.  On September 8, 1941, Catherine went alone to Kenwood, in Albany, New York. During her time at Kenwood, her experience growing up on a farm served her well, as she and another novice raised vegetables and chickens to support the community during World War II.
After Catherine pronounced her First Vows in 1944, she was sent to the Academy of the Sacred Heart at Sheridan Road in Chicago, Illinois. She taught elementary school and was sacristan for five years while being enrolled in science classes at Barat College in Lake Forest, Illinois. In 1949, Catherine, along with nine other Americans, went to Probation and Final Profession of Vows at the Mother House, in Rome, Italy. Catherine made her Final Profession at the Mother House on July 30, 1949, after which she returned to Lake Forest where she taught for the next four years. 
In June of 1953, Catherine was asked to help compile material for the lawsuit between the San Diego College for Women and the contractor. While there, she learned of the new business office at the college. This experience helped prepare Catherine for her next position at Menlo Park, where she replaced the treasurer of the school, who was ill. The duties of this position were multifaceted and included purchasing, supervising the kitchen, directing the maintenance crew and keeping the accounts. It was during this time that Catherine began courses on bookkeeping. The business office at Menlo proved to be a challenge as there was a large enrollment of day students and boarders. Catherine's organizational skills reordered the office keeping her on the go. She was often seen using a golf cart to get around the property. In her five years as business manager at Menlo, Catherine was responsible for an extensive number of improvements and building projects to the school, dorms and corridors of the main building.  She supervised the upgrade to the kitchen with new walk-in refrigerators and freezers; the paving of roads and the installation of cement curbs; seven new tennis courts, a swimming pool and bathhouse; and a large classroom (the Morey building) was constructed. All were surrounded by a cyclone fence.
After the formation of a new Vicariate in 1958, which included houses in Ohio, Illinois, Nebraska and St. Joseph, Missouri, Catherine was asked to be local Treasurer at the Society of the Sacred Heart at Sheridan Road in Chicago and Treasurer of the Chicago Vicariate. She held these positions for seven years. Again, Catherine wore many hats, as she served in two treasuries, as well as teaching classes at Hardey Prep for boys and Sacred Heart Elementary School for girls! The living area for the nuns at the school was so small that their beds were hidden from view in their classrooms. Catherine slept in the dentist's office! Since the nuns were still cloistered at this time, all purchasing was done by phone. 
In 1965, Catherine was asked to replace the treasurer at the college who was leaving for health reasons. Once again, Catherine was involved in major building projects and it was typical that she always sought advice from experts when faced with major decisions.
The rule of cloister was removed in 1968 and changed the lives of religious sisters dramatically. Vicariates were changed to "provinces."  With permission from Rome, the vicar and vicariate treasurer carried on their work without being local superior and local treasurer of a school. Catherine celebrated her silver jubilee on July 7, 1974 and that same year she retired as Provincial Treasurer. She then moved to a cottage on the Barat College property and replaced the business manager at Woodlands Academy of the Sacred Heart in Lake Forest, Illinois. After a one year sabbatical, Catherine served as treasure at Barat College for two years. She returned to Sheridan Road where she was Business Manager as well as Director of Maintenance.  Finding the school in debt, Catherine spent three weeks while the school was closed due to a snow storm searching for records of all past students who had not satisfied their tuition accounts and called each one. She was successful in recovering some of the money and helping the school debt. 
In her ten plus years at Sheridan Road, Catherine formed many relationships keeping in touch with former parents, maintenance men, alumnae and friends.  Her early experience co-editing her high school's first yearbook, was, as she recalled, "the first of my three searches for alumni/ae in three different schools." Coming full circle many years later, Catherine, with the help of some alumnae from Sheridan Road, identified hundreds of photographs and created a picture gallery of graduates from the late 1800's.
During this time, Catherine's eyesight was diminishing, requiring her to have three cornea transplant surgeries over the following six years. In 1988 Catherine moved to San Francisco and began attending classes at the University of San Francisco, the Jewish Community Center and a knitting class at a senior citizen center. She also worked in the alumnae office at the school on Broadway and became involved with the Boutique and spring luncheon at Oakwood. She is lovingly remembered by her sisters and the comradery they shared. As many attested, she never spoke an unkind word about anyone.  After her work in the alumnae office at Broadway, Catherine made the decision to retire at Oakwood, making the change as peacefully and simply as she did so many other changes in her life. Her mobility was affected by several falls and she gradually focused her attention inward, communicating little but always interested in others. 
Catherine began the last leg of her journey home during Holy Week 2016, when she stopped eating, and, on Good Friday, she was put on hospice. Her nephew, Fr. Dan Seiker had planned to visit her during his time on the West Coast. He was with Catherine as she breathed her last on April 2, 2016.
Catherine's life in the Society impacted so many: the children she taught, and the alumnae and other friends she kept in touch with. Her love of people brought out the best in them and her collaborative nature supported the many projects she managed as treasurer. All this from someone who was discouraged from taking math classes! 
A Funeral Mass will be celebrated on Saturday, April 16, at 10:00 a.m. in the Oakwood Chapel followed by burial in the Oakwood Cemetery.
Memorial Contributions may be made to the Society of the Sacred Heart, 4120 Forest Park Avenue, St. Louis, Missouri  63108.