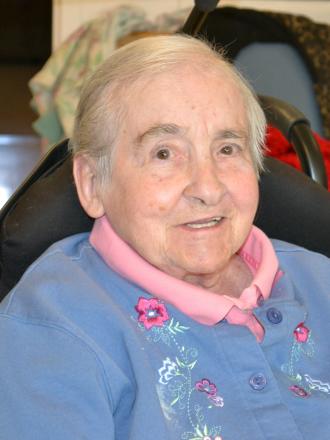 Birth: April 8, 1926Profession: September 29, 1958Death: March 27. 2016
Born on April 8, 1926 in Boceguillas, District of Segovia, Spain, Felisa was the daughter of Valerio Garcia Gonzalez and Dominga Gonzalez. Affectionately known by many as "Fe," she was the youngest of eleven children and attended the local schools. After graduating from high school, she joined her sister who was living in Madrid to look for a job. During this time, she became acquainted with the Society of the Sacred Heart through her brother-in-law who drove for the nuns at Chamartin.  Fe called it "love at first sight."  She was especially moved by the kindness of the religious sisters.
Fe entered the Society in 1950 at Santa Maria de Huerta and made her first vows on January 6, 1953, after which she was sent to Granada to work in the school for five years. On September 29, 1958 Fe made her Final Profession and shortly afterward she was sent to the United States to work as a housekeeper at Stone Ridge Country Day School of the Sacred Heart in Bethesda, Maryland. The following year Fe moved to Newton, Massachusetts where the Society had a college and an academy. For the next twelve years, Fe was Director of Services at the Academy where she was responsible for arrangements and hospitality for overnight guests and a variety of social functions. In 1972, her organizational skills were put to good use at the provincial house on Commonwealth Avenue where she ministered for five years after which she returned to Stone Ridge Country Day School in Bethesda.
In 1983, Fe moved to the West Coast where she worked for three years as Director of Services at Sacred Heart Schools and also filled in as needed at the Oakwood retirement community. After her time in California, Fe returned to Washington, DC at the request of Sr. Kit Collins to work as housing manager and hospitality coordinator at the new Center for Educational Design and Communication. The spirit with which Fe carried out her work attracted people to her. She had a special love and a gift with children and was the virtual grandmother for several children who came regularly for visits and treats. Fe's frittatas were delicious and elegant!
Fe formed relationships with many of the women and men in the city who were part of the social justice network, even joining them at public protests. Fe spent hours with her button press turning out political buttons for the marches she attended with other RSCJ. Her machine was hot to the touch from so much use and people sported her creations for so many occasions. Fe's involvement with her community earned her the title, "Mayor of Brookland."  At her beloved parish, St. Anthony's, Fe was known by many of the parishioners. The ushers and priests would all stop and chat with her when she walked into church.  Favorite topics for Fe were baseball, namely the Boston Red Sox, and politics following the Kennedys.  She read the newspaper every day and enjoyed reporting the latest news.  Fe was known to visit friends in the hospital and made the trip to New York City to visit her good friend Mavi Coakley.  When Mavi recovered, she traveled to DC to surprise Fe on her birthday by jumping out of a box!
Fe's spirit and resilience were sorely tested one morning on her way to work at the Center when she suffered injuries from being hit by a car and thrown onto the sidewalk. To the amazement of all, she prevailed and recovered. She then moved on to working part time at a day care center in the neighborhood. 
Fe was known for her dedication to the Society and her love of others. When she arrived in the United States, her English was limited, but as with everything else she set her mind to, Fe worked through this challenge and didn't let it interfere with her communicating her love and attention where it was needed. 
In 2009, Fe left Washington, DC for the Oakwood retirement center. Despite her waning energy, she was a "landmark" sitting in her wheelchair by the chapel door where she continued to extend her love in her outstretched hand to all who entered. On the eve of Holy Week, Fe developed a high fever and was placed on hospice. She was anointed after the Holy Saturday Vigil Mass and, after Easter Sunday Mass, was blessed by Archbishop John R. Quinn. Fe died peacefully one hour later, joining the Risen Lord and her parents and many siblings. 
A Funeral Mass will be celebrated on Saturday, April 9, 2016 at Oakwood with burial in the Oakwood Cemetery.