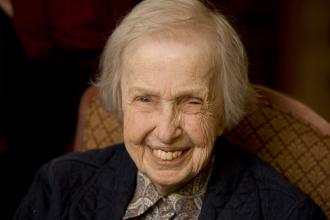 Birth: November 10, 1913Profession: February 15, 1940Death: March 31, 2016
A religious sister for eighty-four years, Frannie, as she was known by her friends, was born on November 10, 1913 in Westerly, Rhode Island, and was the daughter of the Honorable Joseph Thomas Murphy and Annie O'Toole Murphy. Her only brother, Austin, predeceased her. Losing her parents at a young age, Frannie went to live with her two aunts, while her brother was sent to boarding school. An uncle, who was a priest, knew the Elmhurst Religious of the Sacred Heart and asked Mother Cody if the school would take Frannie. And so, along with her best friend who later joined the Society, Frannie enrolled at Elmhurst and began a relationship with the religious sisters there.  Frannie spent over ten years at Elmhurst and was very happy at the school and fond of the religious sisters who taught her. One, in particular, Mother O'Rourke made an impression on Frannie and the group of girls she taught. 
Following graduation from Elmhurst, Frannie entered the Society at Kenwood on September 7, 1931 in Albany, New York and made her first vows on March 8, 1934. Between that time and her Final Vows, made in Rome in 1940, she taught at Convent of the Sacred Heart in Grosse Pointe, Michigan, Convent of the Sacred Heart in Albany at Kenwood, and at the Convent of the Sacred Heart in New York City.  Beginning in 1947 and for the next ten years, Frannie served on the faculty and administration at the Academy of the Sacred Heart in Noroton, Connecticut. During this time, she earned a bachelor's degree in history from Manhattanville College in 1949, after which she taught again at Kenwood in Albany and at Manhattanville College in Purchase, New York. From 1961 to 1970, Frannie served as the Treasurer at the Academy of the Sacred Heart in Noroton, and as Director of Services and Sacristan at Newton College of the Sacred Heart, then as Plant Manager at the Convent of the Sacred Heart, at 91st Street. In 1974, Frannie enrolled in a Health Ministry Training Program at Walter Reed Army Medical Center to begin studies in pastoral ministry where in 1975 she was certified and subsequently served as chaplain at Sloan-Kettering Hospital in NYC. For nearly twenty years, beginning in 1979 through 1997, Frannie worked as a finance assistant for the Doane Stuart School and at Kenwood Convent. In 1997, she retired there and in 2007 moved to Teresian House, also in Albany, New York.
Frannie's long life of service in the Society was marked by her kind, empathic and joyful heart. Her generous and fun-loving spirit were felt by her students, her colleagues and her Sisters. All who knew Frannie came away refreshed and happier for knowing her. As her years drew to a close, she longed to go to heaven and slipped quietly away on March 31, 2016.  
A Funeral Mass will be celebrated on Monday, April 11, at 11:30 a.m. in the Teresian House Chapel in Albany, New York.  Burial will be at the Kenwood Cemetery. 
Memorial Contributions may be made to the Society of the Sacred Heart, 4120 Forest Park Avenue, St. Louis, Missouri  63108.