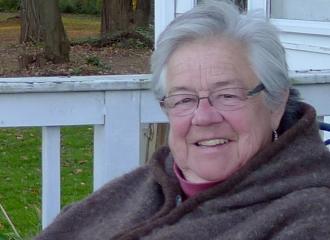 Birth: January 30, 1940
Profession: February 3, 1969
Death: June 1, 2016
Religious of the Sacred Heart, Georgianna "Georgie" Blaeser, RSCJ died, June 1, 2016 in Poughkeepsie, New York.
Born on January 30, 1940 in Chicago, Illinois, Georgie as she was affectionately known, was the daughter of Anthony Blaeser, Sr., and Georgianna Blaeser.  She is survived by her brother James (Ellen) Blaeser and her beloved niece, Georgie.  She was the youngest child in her family and after losing her mother at a young age, Georgie's older sister Joan became her virtual mother.  The loss of her mother, plus her father's remarriage and Georgie's displacement, left deep holes in her life.  She was sent to Lake Forest as a young child to the boarding school and found there a sense of family and mothering that was missing from her home life. 
Georgie graduated from the Convent of the Sacred Heart, in Lake Forest, Illinois and after high school attended San Diego College for Women.  She entered the Society at Kenwood in Albany, New York in 1960 and made her first vows in 1963 at Kenwood.  Georgie went on to Duchesne College, in Omaha, Nebraska where she earned a bachelor's degree in English and then made her final profession in 1969 at the Mother House in Rome Italy.   She earned two master's degrees, the first a Master of Fine Arts from Northwestern University in Evanston, Illinois, and, a Master in Educational Administration from the University of Notre Dame, in Notre Dame, Indiana.
Georgie served as teacher and school administrator (dean of students and head of the boarding school) for many years at the following Sacred Heart schools: Woodlands Academy, Lake Forest, Illinois; Duchesne Academy, Omaha, Nebraska; Glen Oak School, Cleveland, Ohio; and, Carrollton School of the Sacred Heart, Miami Florida (campus minister and director of the social justice program).
Georgie served one year as Director of Communications for the new US Province and then from 1983 to 1987, Georgie served the international Society of the Sacred Heart as Director of Communications in Rome, Italy.  In 1993, she served on the US Provincial Team where she served for six years.  
Georgie's ministry history was wide and varied.  A consummate educator, she had a sense of adventure and was not averse to taking risks!  At the age of fifty-nine she decided to leave the formal classroom for Sprout Creek Farm.  Without the knowledge of what it took to work on a farm, she forged ahead putting everything she had into the process of learning what needed to be done.  The most important thing for Georgie was the process, the experience of trying, and not the product.  In this way, her spirit was open, light and true.    Georgie had a work ethic that ran parallel with her adventuresome spirit.  There was nothing she wouldn't do from staying up all night waiting for the birth of two lambs to serving on countless province committees.  She did all with the same spirt-filled grace that she brought to every encounter.    
For the past sixteen years, Georgie served Sprout Creek Farm as education and program director spearheading numerous programs for children and adults.   She produced the Sprout Creek Farm's yearly calendar introducing folks to so many of the creatures who made up the Kingdom.  Georgie was often seen driving her mini tractor which she thoroughly enjoyed!  She was also a photographer and the farm inspired much of her work.  As Georgie shared in a presentation she gave at Woodlands Academy in 2012 (excerpted in the Spring 2012 issue of Heart Magazine), photography taught her to see what is actually there without judgement.  The canvas of the natural world, "shouted out to me, "We are looking at you.  Don't miss out, because each moment is the only one you have to take in the truth of what it means that we see you.  Notice us and worlds will open to you."  Georgie described Sprout Creek Farm as "magic with light," an "inspiring place where people learn to grow and shrink a little at the same time."  She captivated her audience at Woodlands that day where the girls loved her. 
Georgie is best described by her Sisters in the Sacred Heart, family and friends by how she made them feel and her sense of humanity.  She listened. She cared, and she loved.  Georgie mentored many students and young adults over the years, including many of her religious and lay colleagues, all of whom were drawn to her strength, sense of humor and humility.  In a talk that she gave at Carrollton for an annual celebration of the special relationship between mothers and daughters, she speaks of the vision of St. Madeleine Sophie for young women of her time and the challenges that we still face in living up to that vision.  Georgie talks about the "we" and "they," and how a lack of compassion can turn to judgement as we can exhibit the same objectionable behavior we see so easily in someone else.  In her humble self-effacing manner, Georgie recognized how precious and fragile life is and how this day is all that is given to us.  She was truly present to this life, its joys and its sorrows.  
For the past three years, Georgie has been battling lung cancer, again setting her mind to what needed to be done and living life to the fullest. Georgie loved to cook, serving up gourmet meals right up to a week or two before her death. Georgie was into nurturing the land, the child, the animal, the belly, her eye, her love of literature and writing with the wonders of creation.
Georgie's final journey home took place on June 1, 2016, when she surrendered the pain and the suffering of her battle with lung cancer.   She was blessed with many visits from her brother, Jim and his wife and her niece, Georgie and many friends over these years.  In her final hours she was held close by her Sisters, Meg Causey and Margo Morris.  
At Georgie's request, a Memorial Mass will be held in September after the summer camps conclude.  
Memorial Contributions can be made to the Georgie Blaeser Education Fund at Sprout Creek Farm, 34 Lauer Rd, Poughkeepsie, NY 12603