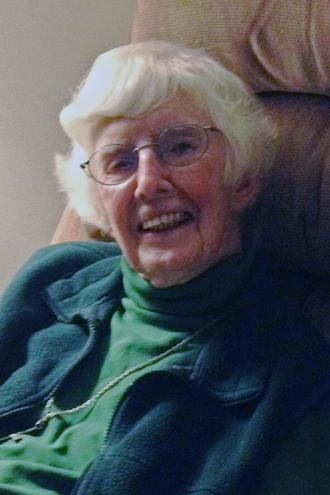 Birth:  July 1, 1922Final Profession: July 30, 1951Death: January 7, 2016
Religious of the Sacred Heart Janith (Jan) McNabb, RSCJ died January 7, 2016, at Teresian House, in Albany, New York. Her life will be celebrated with a funeral Mass on January 15, 2015 in the Teresian House chapel. A private burial will be in the Society of the Sacred Heart cemetery at Kenwood.
Born in Grosse Ile, Michigan, July 1, 1922, she was the daughter of Duncan James McNabb and Alexandrine Brodhead McNabb.  A graduate of the Convent of the Sacred Heart, Sr. McNabb entered the Society of the Sacred Heart September 8, 1943 at Kenwood, in Albany, New York and made her final profession on July 30, 1951 in Rome, Italy. She received a bachelor of science in chemistry in 1943 from Maryville College, in St. Louis, and a masters of arts in teaching in 1967 from the University of Detroit.  Sr. McNabb earned certifications in Theological Enrichment through the Washington Theological Union, and in Pastoral Ministry through the Archdiocese of Detroit. In 1988, she completed a Clinical Pastoral Education program.
Sr. McNabb was a teacher, administrator, and chaplain.  After entering the Society, she taught at the Academy of the Sacred Heart in Detroit, Michigan; the Convent of the Sacred Heart at Kenwood, followed by the Convent of the Sacred Heart at Noroton, Connecticut. Sr. McNabb continued as a teacher for the next five years at the Convent of the Sacred Heart in Rochester, New York. After a short time at St. Joseph's School in Roxbury, Massachusetts she moved on to Cathedral High School in Boston, Massachusetts. During the 1970's, Sr. McNabb worked as a community worker at the Green Street Project in Albany, New York; Director of Residents and social worker at the Henry Street Settlement House in New York City; and medical secretary at the Rockefeller Institute in New York. She also taught at Julia Richman High School in New York; Harlem Community Schools, New York; Baruch College NYCC, New York; and, worked as Supervisor of Social Projects at the YWCA.  For the next ten years, Sr. McNabb served in a number of roles; as Provincial Secretary for the Society of the Sacred Heart, India Province; Coordinator of Special Projects for the Archdiocese of Detroit; and, Math Instructor for both the Detroit College of Business and Marygrove College, University of Detroit. For the next three years, Sr. McNabb worked at the following ministries: St. Martin de Porres Center as Coordinator of Education in Chicago; the Sullivan School as General Teacher, and, at the Daley College in Chicago as Training Specialist and the Spanish Coalition where she taught several ESL classes.  Beginning in 1989, Sr. McNabb served as Chaplain for the Department of Corrections at Rikers Island in New York, and then as Coordinator of Detention Ministry for the Diocese of San Jose, California. From 1991-1995, she served as Hospital Chaplain and Director of Pastoral Care at the San Jose Medical Center in San Jose, and did pastoral work at Good Samaritan Hospital. Sr. McNabb spent over ten years serving as Chaplain for Hospice Care for the Visiting Nurse Association. 
Sr. McNabb gave of herself tirelessly to the poor and suffering ones of our world and will be welcomed by the hundreds of people she helped throughout her life.  Despite her advanced age, she went out daily to take her ministry to homebound people, many of them dying of AIDS.  She was an advocate for poor and marginalized peoples and remained steadfast in her convictions about the Lord's work amidst her own suffering. May she be an intercessor for our world to whom her heart and prayer reached out when she could no longer minister herself, and for those needing purpose in life.
Predeceased by her parents, three brothers and one sister, Sr. McNabb is survived by her brother, Mr. Alan McNabb of Pittsfield, MA and her sister, Sr. Mary de Sales McNabb of Washington, D.C., by a number of very devoted nieces and nephews, and by her sisters in the Society of the Sacred Heart.
Memorial contributions may be made to the Society of the Sacred Heart, 4120 Forest Park Avenue, St. Louis, MO 63108.