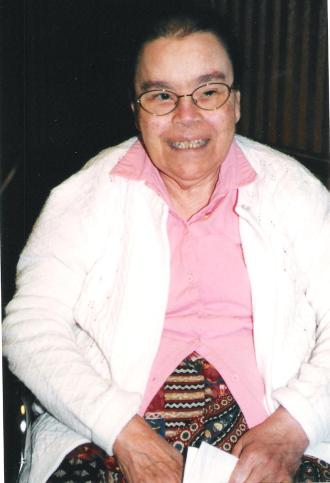 Birth: July 13, 1926FInal Profession: June 21, 1963Death: March 8, 2016
Religious of the Sacred Heart, Margarita Santos died March 8, 2016 at Teresian House in Albany, New York.  
Born on a farm outside the village of Cidra, Puerto Rico, on July 13, 1926, Margarita was the daughter of Pedro Santos and Rosa Ramos Santos and the second of eleven children. At the age of two, she was sent to live with her grandmother who taught her how to pray and shared many stories of the sisters who taught catechism. She attended the local Catholic school for a few years and was brokenhearted when she had to return to the farm. During this time, her interest in the Church waned. She cared deeply about relationships and her life was lonely on the farm. As she entered her teens, Margarita became quite independent and decided to go to the "big city" of Santurce. Out of the blue one day, she decided to visit the church; this was the beginning of her attendance at daily Mass. She was introduced to the Society of the Sacred Heart through a parishioner who had a niece in the Society. She invited Margarita to her home and then later to a retreat at the Sacred Heart Convent. During this time, Margarita was considering religious life and returned for a second retreat, after which she asked to enter the Society of the Sacred Heart. 
Margarita entered the Society at Santurce, Puerto Rico in 1953. Her early years in the Society were challenging, as her independent nature made the novitiate difficult at times, coupled with the fact that she entered at the age of twenty-seven and was older than most of her peers. Sr. Santos persevered, and after she made her first vows, was sent to the Convent in Ponce, Puerto Rico then to the United States to work at Eden Hall in Philadelphia after which she prepared for her final vows and made her final profession there in 1963. 
From 1964 until 1978, Sr. Santos served as sacristan at Eden Hall, at the Convent of the Sacred Heart Stone Ridge in Bethesda, Maryland, and at the National Basilica of the Immaculate Conception in Washington, D.C—an amazing ministry that eventually grew too large for one person. After a renewal in Ireland in 1980, she returned for one year to the children she loved at the Kenwood Day Care in Albany, New York. She then went on to general education studies at Casa del Sol in Boston, Massachusetts and studied at San Jose Community College in San Jose, California.  From 1983 to 1988, Sr. Santos worked with students at Schools of the Sacred Heart in San Francisco and then with preschool and elementary children at Doane Stuart Academy in Albany.
Sr. Santos retired in 1988 to a ministry of prayer at Kenwood Convent in Albany. She was diagnosed with cancer in 2000 and despite suffering through chemo and the loss of energy, she prevailed and went into remission. As a member of the retirement community as well as when she moved to Teresian House in 2008, she continued, as she was able, to participate in all the activities that were offered, never losing her sense of humor or her interest in life.  All the same, when her cancer returned three years ago, she refused treatment and quietly waited to join her Beloved Jesus.  Finally she slipped away, joining Him on March 8, 2016. 
Sr. Santos's funeral Mass will be celebrated in the Teresian House chapel at the residents' liturgy on Tuesday, March 15 at 10 AM.  There will be a time of visitation from 9:15 until 10.
She will be buried in the Kenwood cemetery.