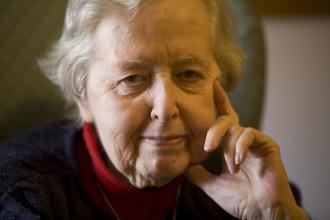 Birth: November 23, 1918Final Profession:  May 31, 1981Death: January 8, 2016
Religious of the Sacred Heart Mary Louise Parkinson died Friday, January 8, 2016 at Teresian House, the Society of the Sacred Heart's elder care community in Albany, New York.  A Memorial Mass for Sister Parkinson will be held at Teresian House, on Saturday, January 16 at 11 AM in the chapel at Teresian House.  Burial will be in the Kenwood cemetery.
Born in Philadelphia, Pennsylvania, on November 23, 1918, Mary Louise Parkinson was the daughter of Francis X. Parkinson, Sr. and Julia Louise Hart Parkinson. Upon the death of her mother when Mary was eight years old, she and her two brothers were sent to be raised by her father's sister, Katherine in northeast Philadelphia. Mary graduated from St. Dominic's School in Holmesburg, Pennsylvania and from John W. Hallahan, Catholic Girls' High School in 1937. After completing a course at the Stenotype Institute in Philadelphia, Mary worked in the library at Eden Hall, Academy of the Sacred Heart, in Philadelphia. During the summer, she worked with children from the public schools attending summer school for Christian Doctrine.  Due to the shortage of teachers during World War II, she was asked to teach in the parish school at Eden Hall, teaching second and third grades in September 1942 under the supervision of Sr. Ethel Burns. Mary continued teaching under the supervision of Sr. Gertrude Fitzpatrick followed by Sr. Virginia Schumann.  During these years, she entered the novitiate of the Sacred Heart at Kenwood in Albany, but left after a short time because she felt her duty was to her family. She returned to teaching at the parish school at Eden Hall in 1949 through June of 1960.  While teaching, she enrolled in Extension Courses at Villanova in 1950, working for a bachelor degree in Elementary Education.  
In the summer of 1960, Mary remained at home to care first for the aunt who raised her, then for her father who died in 1963. In March of 1964, she moved to Torresdale, PA, and began work as a secretary to the Mistress General at Eden Hall, first Sr. Mary Bush then Sr. Esther Ann Whalen, a position she held until the school closed in 1969.  She subsequently moved to Albany and worked at the Kenwood Academy as secretary, splitting her time between the school office and the Kenwood Day Care and Child Development Center.  In 1970, this position became fulltime at the school office.  During the summer of 1971, Mary joined the House of Prayer Community in Detroit, Michigan, directed by the Sisters of the Immaculate Heart and was the only lay person in the core group.  She returned to Kenwood, working in the school office, and on June 3, 1972, made a commitment at a special liturgy to live the life of a religious, supporting the aims and goals of the Society as set forth in the Statement of Purpose of the New York Province, but still as a lay person. 
On December 17, 1974, Mary officially entered the Society of the Sacred Heart. She made her First Vows at Kenwood on February 28, 1976, and her Final Profession on May 31, 1981 at Villa Lante, Rome, Italy.
Following her profession, she worked for six weeks in the library of the convent at Woldingham, England, then returned to the Convent of the Sacred Heart Greenwich, where she served as secretary on the New York provincial staff. Following this work, Sr. Parkinson returned to Kenwood Community and worked as a registrar/secretary for Doane Stuart School, a merger of Kenwood and St. Agnes Episcopal School, and from 1986-1993 she served as secretary at the Convent of the Sacred Heart at Kenwood in Albany, particularly to Sr. Katherine Sullivan, well-known scripture scholar. Sr. Parkinson moved to Teresian House in 2007.
Sr. Parkinson was known by her students, her colleagues and her Sisters in the Sacred Heart for her kindness and loving nature. She entered the Society later in life so she could care for her family. Those who remember her entrance recall her ever-ready smile and her generosity, always willing to serve.  Her excellent secretarial skills were renowned and were put to use in the schools and in a number of Society administrations. During her nine years at Teresian House, she endeared herself to the staff who cared for her because she was unfailingly patient, gracious and grateful.
Two brothers and their wives pre-deceased her.  Sr. Parkinson is survived by ten devoted nieces and nephews as well as her sisters in the Society of the Sacred Heart.
Memorial contributions may be made to the Society of the Sacred Heart, 4120 Forest Park Avenue, St. Louis, MO  63108.