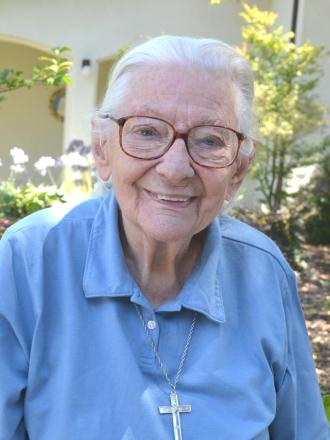 Birth: May 14, 1926Profession: February 9, 1957Death: February 20, 2016
McDuffie, Mathilde RSCJ – Religious of the Sacred Heart, Mathilde Mary McDuffie, RSCJ died February 20, 2016 in Atherton, California
Born in Cincinnati, Ohio on May 14, 1926, Sr. Mathilde McDuffie, RSCJ was the daughter of Roy Oliver McDuffie and Elizabeth Babbitt McDuffie. "Mac" as she was affectionately known by her friends and religious sisters, entered the Society of the Sacred Heart on October 30, 1948 at Kenwood in Albany, New York. She made her first vows in 1951 in Albany and her final profession in 1957 in Rome, Italy. Her vocation revealed itself in her late teens and was not well received by her family, especially her mother who asked her to wait on her decision to enter the Society until she earned her degree. Mathilde honored her mother's request and graduated from Maryville College in St. Louis in 1947 with a bachelor's degree in English. Witnessing Mathilde's happiness and joy, her parents' opposition melted and they became very proud of their daughter. After entering the Society, Sr. McDuffie earned a master's degree in English from Xavier University in 1963. Besides being a dedicated teacher who dearly loved children, Sr. McDuffie also held a deep love for animals and nature. Her early years were spent at the Convent of the Sacred Heart, Clifton, in Cincinnati, Ohio; Villa Duchesne and Oak Hill School in St. Louis, Missouri, and Academy of the Sacred Heart; The Rosary in New Orleans, Louisiana, and then to the Convent of the Sacred Heart, Clifton in 1958. In 1963 she became Mistress of Studies at the Woodlands Academy of the Sacred Heart, Lake Forest, Illinois, where she was also one of the founding faculty members of the new Woodlands Academy at Lake Forest as well as a member of the Chicago Province. 
Sr. McDuffie returned to her much loved Society of the Sacred Heart, Clifton in 1967 and for three years served as Mistress General. Her next ministry would be in Grand Coteau, Louisiana where she was assigned Director of the Boarding School at the Academy of the Sacred Heart, Grand Coteau. She loved the children and they loved her. After eight years in this role, she returned to full time teaching, teaching both English and religion. She remained at Grand Coteau for the next thirty years until her retirement!  Sr. McDuffie's legacy can be found in the children whose lives she touched. One of those children was Lynne Lieux, RSCJ, who met Sr. McDuffie when she was fourteen and entering the boarding school. Sr. Lieux shares that Mother McDuffie was "my other mother during my adolescent years, "A woman who saw to every one of my needs and to whom I trusted my thoughts and my heart."  Her lightheartedness and fun loving nature were an invitation to experience the joy she felt in teaching and mothering so many Sacred Heart children now adults who knew and loved her. She had a way of bringing out the best in the children she taught, sharing her love of reading and when needed, disciplining with unconditional love. Her love for the children was real and she would do anything to help them.
Along with teaching and her love of children, Sr. McDuffie had a deep love for animals and all things in nature. She was the 'St. Francis' of Grand Coteau where she cared for up to seventy-five animals! Most were very rare types of rabbits, birds, and many dogs. They were everywhere – she had special cages for the rabbits and birds in the back of the property – this was known as the 'Animal Kingdom'. She was not discriminating, taking in dogs, cats, rabbits and even raised what was supposed to be a pot-bellied pig named Blossom who turned out to be anything but small. There are stories about her dogs, Sean and Coteau following her to class, where Sean would sit quietly under her desk learning enough about scripture, some thought to qualify for a Ph.D. Sr. McDuffie also loved to pick pecans from the trees and give them away, thus forming relationships with the people in Grand Coteau who knew of her work and her hobbies. In addition to her animals, Sr. McDuffie also had and tended about forty different kinds of rose bushes and was a member of the National Rose Society. As a result, the school was never at a loss for flowers. 
In July, 2010 Sr. McDuffie joined the Oakwood retirement center for the Religious of the Sacred Heart in Atherton, California, where her Sisters were drawn to her by her self-effacing, kind and joyful ways which she displayed all of her life. To her many friends she exclaimed after moving to Oakwood, "I have met one wonderful person after another!" At Oakwood, Sr. McDuffie, always an avid reader, enjoyed her Kindle and was the first in the community to use Facebook! In September 2014 her cancer returned and was not treatable. Encouraged to fulfill her greatest wishes while she still had strength, she went on a whale watch, not just one, but three! As the months went by and she weakened, she was surrounded by her flowering plants, bowls of fish and visits from any furry creature that came to her door.  On February 18, she began her journey home with her community keeping vigil never leaving her side until she slipped into eternity two days later.
Sr. McDuffie is predeceased by her brothers, George (Pat) McDuffie, Roy O. McDuffie, Jr. and sister-in-law, Mary Kay McDuffie. She is survived by her brother, Edward (Christie) McDuffie, Bellaire, Michigan and sister-in-law, Mary Sue McDuffie, Cincinnati Ohio, many nieces and nephews and numerous friends, and her Sisters in the Society of the Sacred Heart.
A  Funeral Mass will be held on Saturday, March 5th at 10:00 a.m. in the OakwoodChapel. She chose to be cremated and after a funeral at Oakwood to have her ashes taken for burial in the Society of the Sacred Heart Cemetery at Grand Coteau.  A Burial Mass will be held at 11:00 a.m., Saturday, March 12 in the chapel of the Schools of the Sacred Heart in Grand Coteau, Louisiana, followed by a reception. 
A memorial celebration will be held at a later date for family and friends in Cincinnati.
Memorial contributions may be made to the Society of the Sacred Heart, 4120 Forest Park Avenue, St. Louis, MO  63108.