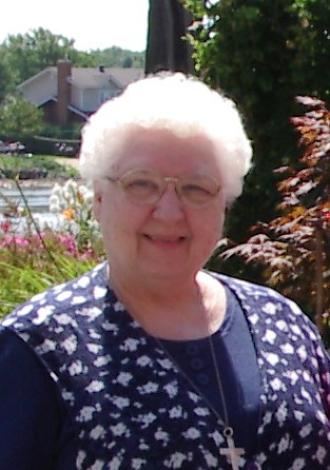 Birth: October 14, 1932 
Profession: March 8, 1954
Death: August 26, 2016
Sr. Sarah Mahar, affectionately known as Sally, was born on October 14, 1932 in Halifax, Nova Scotia. She was the oldest of five children born to Gerald James Mahar and Alice Marie Bourque Mahar. Sally grew up in a close-knit music loving family with her grandparents and aunts living on the same street. Music was ever-present in their lives and continues to have a profound influence in the family. She is survived by her three brothers, Victor (Rose Marie) Mahar, Halifax; Gerald (Heather) Mahar, Dartmouth, Nova Scotia; Gordon Mahar of Dartmouth, nieces and nephews and several grand nieces and nephews and her Sisters in the Society of the Sacred Heart. She was predeceased by her parents and an infant sister. 
Sally was introduced to the Society of the Sacred Heart as a student at College Street School, and she began her studies at the Convent of the Sacred Heart in 1946. In 1951, upon graduation, she entered the Novitiate of the Society of the Sacred Heart at Kenwood in Albany, New York, and in 1954, after three years of initial formation, Sr. Mahar pronounced First Vows. She made her Final Profession in Rome, Italy, in 1960.
Sister Mahar's ministerial history encompassed education and provincial administration. Her early years in the active apostolate were primarily in education. She taught in Sacred Heart schools in Vancouver, Montreal and Winnipeg. Beginning in 1955, Sally was named principal of the elementary school and teacher at the Convent of the Sacred Heart, Montreal, Quebec. She then moved in 1957 to the Convent of the Sacred Heart in Vancouver, British Columbia where she was principal of the junior high school and teacher. From 1958 through 1967, she was principal and assistant principal in Sacred Heart schools in Winnipeg, Montreal and Vancouver.  From 1967 to 1973, Sister Mahar served as principal at the College Sophie Barat in Montreal, and as Headmistress at the Convent of the Sacred Heart in Halifax. She became Parish Assistant at St. Mary's Cathedral Basilica in Halifax - a special opportunity for her because St. Mary's was the place of her Baptism, First Communion and Confirmation. For some years she served as Pastoral Assistant at Saint Catherine's Parish in Halifax. 
In 1991, she was named to a six year term as Provincial Superior, and from 2001 to 2005, Sister Mahar was the Canonical Bursar for the Society of the Sacred Heart in Canada. Relieved of her leadership responsibilities, Sister Mahar became involved in hospital chaplaincy in Halifax, a ministry that gave her much life; she considered it a privilege to journey with the sick and dying.
From 1982 through 1996, Sister Mahar was a board member of the Sacred Heart School of Montreal, Advisory Council (1986-1991), Sacred Heart School of Halifax, Board of Governors (1982-2016) and the Canadian Religious Conference-Ontario Region (CRC-O). While serving as Provincial Superior of Canada (1991 -1997), in Ottawa, Ontario, she was awarded The Papal Cross Pro Pontifice et Ecclesiae, the Papal Award for her contribution to the life of the Archdiocese of Ottawa.
The wake will be held at Barat Residence, 1455 Summer St. on Monday, August 29 from 2 -4pm, with prayers and sharing of memories at 7pm; and Tuesday, August 30 from 10am-noon. A funeral mass for Sister Mahar will be celebrated by Father Gordon MacLean, on Tuesday, August 30, 2016 at 2:00 pm at Saint Mary's Basilica. Following the funeral, a reception will be held at Sacred Heart School of Halifax, 5820 Spring Garden Road.  Burial will take place at Holy Cross cemetery at a later date. 
Memorial contributions may be made in Sr. Sally Mahar's name to Sacred Heart School of Halifax or to Sacred Heart School of Montreal.