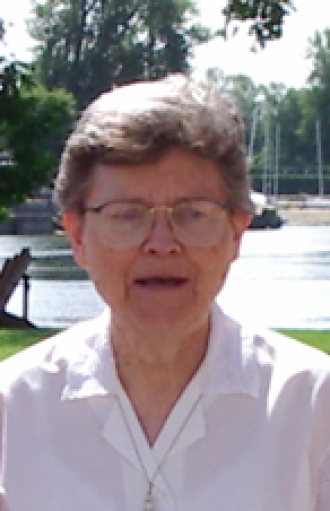 Birth: February 21, 1932
Profession: December 28, 1969
Death: May 13, 2016
Religious of the Sacred Heart, Shelagh Deegan, RSCJ died May 13, 2016 in Halifax, Nova Scotia, Canada
Born on February 21, 1932 in Winnipeg, Manitoba, she was the daughter of Robert James Deegan and Alsie Dixon Deegan. Predeceased by her parents, Sr. Deegan is survived by her two brothers, Allen Deegan (Lucille) and George Deegan (Patricia), several nieces and nephews, grand-nieces and grand-nephews, and cousins in Canada, the U.S., England and Ireland.
Sister Deegan grew up in Winnipeg and was educated at St. Edward's school and at the Convent of the Sacred Heart. After attending Normal School, she taught for a few years in the Winnipeg public school system before entering the novitiate of the Society of the Sacred Heart at Kenwood in Albany, New York in 1961. She took her First Vows at Kenwood in 1964 and made her Final Profession in Montreal, Canada in 1969. 
After she entered the Society, Sr. Deegan was given aptitude and psychology tests and scored highest in business. While she found her test results surprising, she found she enjoyed taking business courses. And, with finance running in her family, her father and brother were both accountants, Sr. Deegan had a natural bent in this area combined with a love of people. Both traits were viewed by her superiors as invaluable gifts which she would share within the Society and the wider world. As a result, it was suggested that Sr. Deegan be sent to graduate school to earn a degree in business administration with the goal of her taking over the business affairs within the Society wherever needed.  
After Sr. Deegan graduated from Newton College, with a Bachelor of Arts degree she went on to the University of British Columbia where she earned a Master's in Business Administration in 1969. At that time, she was the only religious sister in the class with many of her classmates moving on to the corporate world after graduation. After graduation, Sr. Deegan began her long history in provincial administration, serving as Provincial Bursar for thirty-nine years. As a colleague of many treasurers of religious orders, she was one of the founders of ATRI (Association of Treasurers of Religious Institutes). This role found her working towards the opening of schools and implementing projects for the Society at the international level. She assisted the Uganda-Kenya Province in building a primary school, which opened in 2002, to educate young Ugandan girls according to the philosophy of the Society of the Sacred Heart. 
Shelagh's skills in finance were matched by her empathetic love of people. She was known for her self-effacing personality and desire to build relationships. As Provincial Bursar her accounts were complete and detailed and her communications to her sisters were thoughtful and light hearted, where she gave all of her attention to the person to whom she was writing. She was truly present to all who knew her. 
Sister Shelagh Deegan passed away peacefully on Friday, May 13, 2016 surrounded by the love and care of her Sisters. Her death occurred at Caritas Residence in Halifax, where she had been a resident for the past two years.
Visitation will be at Barat Residence, 1455 Summer Street, on Thursday, May 19 from 2:00 p.m. until 4:00 p.m. Prayers and a sharing of memories will follow between 7:00 and 9:00 p.m.
The funeral will be at Barat Residence on Friday, May 20 at 10:00 a.m. In lieu of flowers, a donation to the Sacred Heart School of Montreal or Sacred Heart School of Halifax would be appreciated.
The Religious of the Sacred Heart wish to thank the Sisters of Charity of Halifax for their gracious welcome at Caritas Residence. We also wish to convey our deepest gratitude to Mrs. Sharron Dolan for her wise and devoted medical attention to and care of Sister Deegan.