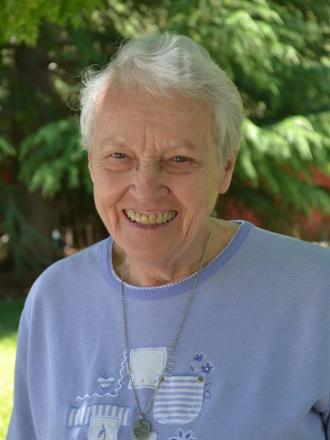 Birth: March 12, 1927
Profession: July 29, 1954
Death: May 29, 2016
Religious of the Sacred Heart, Therese Downey, RSCJ died May 29, 2016 in Atherton, California
Born on March 12, 1927 in Stewartsville, Missouri, she was the daughter of William Keily Downey and Margaret Kenney Downey. Predeceased by her parents and nine siblings, Sr. Downey is survived by her brother, Patrick (Jennie) Downey of Minneapolis, Minnesota. She is remembered fondly by numerous nieces and nephews, and grand-nieces and grand-nephews to all of whom she was devoted, remembering their birthdays and visits to them and their families.
Therese grew up on a farm in Missouri and was one of eleven children. She attended the Platte Center, a one-room schoolhouse in Stewartsville, Missouri for eight years. Following this, she began high school spending her first two years with the Franciscan Sisters and her last two years with the Religious of the Sacred Heart in St. Joseph, Missouri. Therese felt the call to religious life during her freshman year at Benedictine College in Atchison, Kansas during a visit to the chapel, where she felt touched by God. Ironically, a couple of years earlier while she was a sophomore in high school one of the Franciscan Sisters told her she should stop talking so much with boys, since she had a vocation to the religious life. Therese was unaware of her vocation at this time and when asked by her mother if she wanted to become a nun, Therese said "absolutely not!"  Her mother told her to "Forget about it.  God will take care of your life."  As was customary in Therese's family, when someone was discerning an important decision the oldest son, Brendan, who was a Benedictine monk, was consulted.  When Therese spoke with her brother and shared her desire to join a religious congregation, he was happy to hear of her decision to enter the Society of the Sacred Heart, saying to Therese, "There is something very special about the faces and eyes of those religious."
After her freshman year at Benedictine College, Therese entered the Society of the Sacred Heart in 1946 at Kenwood in Albany, New York. She took First Vows in 1949 at Kenwood, and Final Profession in 1954 in Rome, Italy. Her academic achievements included earning a B.A. in English from Barat College in 1952 and a M.A. in Education from the San Francisco College for Women at Lone Mountain in 1962.
Sr. Downey had a special love and talent for teaching young children. She worked primarily as a teacher in Sacred Heart Schools often serving as Mistress of Studies. In 1959, Sr. Downey took charge of the lower elementary school at the Convent of the Sacred Heart, Clifton in Cincinnati, Ohio, teaching children in grades one through four. She loved the young children and guided them in a firm and loving manner. On one occasion, the children were participating in a fire drill where all four grades had to proceed down a four story fire escape which they accomplished in total silence and calm. It was later revealed that Sr. Downey took each child by the hand one at a time down the fire escape and then, taking each class down the same way. 
In 1969, Sr. Downey moved on to Hardey Preparaory School for Boys in Chicago, where she taught for seven years. While this assignment was new territory, she felt well prepared based on her experience of growing up with six brothers.  She then went on to work as a Religious Education Coordinator at St. Ignatius parochial school in Grand Coteau, Louisiana, and served on the faculty of the Sacred Heart Schools at Sheridan Road and the Academy of the Sacred Heart before returning to Grand Coteau to join the staff at the Thensted Center where she worked as the Director of Educational Programs. After leaving the Center in 1998, she continued to serve Grand Coteau tutoring and volunteering in the public library.  At Grand Coteau, Sr. Downey transformed a store room at Our Lady of Guadalupe School into a library for the children accomplishing this with no budget. The children loved the library and visited often.  Altogether, Sr. Downey spent seventeen years at Grand Coteau.
In 2012, Sr. Downey retired to the Vera Street Community in Redwood, California where she volunteered as a tutor. She joined the Oakwood community the following year and helped two of her Sisters find their way around helping them daily, keeping active until mid-May 2016 when after two weeks in the hospital, she was diagnosed with a large untreatable mass in her lung. Sr. Downey returned to Oakwood and entered hospice care. After being anointed on May 29th, Feast of Corpus Christi, her earthly journey ended that evening.  At Sr. Downey's request, her body was donated to science and received by Stanford Medical School for the education of young medical students.
A memorial Mass will be held at the Oakwood Chapel on Saturday, June 25 at 10:00 a.m.
Memorial Contributions may be made to the Society of the Sacred Heart, 4120 Forest Park Avenue, St. Louis, Missouri  63108.