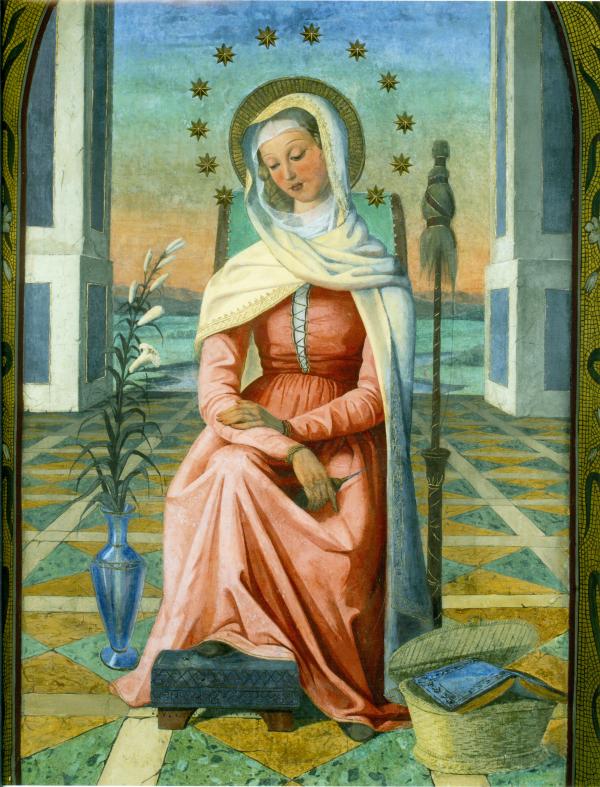 Read and explore the myraid prayers and reflections on Mater in the Society's three official lanuages, courtesy of RSCJ International.
JPIC Feast of Mater Admirabilis - Prayer Guide 2021
To celebrate this year's Feast of Mater Admirabilis, JPIC shares with you this prayer guide, which invites us to contemplate Mary's life in our hearts.
"Mañanitas" for Mater in Guadalajara, Mexico
At the Colegio del Sagrado Corazón in Guadalajara, Jalisco, Mexico, they have been celebrating Mater for 75 years by singing "Mañanitas" to her.
Contribution of the Elder Sisters of the Casa Grande de Guadalajara, Mexico
We want to join the Society in celebrating Mater. In our community we have a very beautiful statue and the sisters of the Casa de Mayores, in Guadalajara, prepared for her feast by sharing an invocation to the Blessed Mother who is so dear to religious, lay collaborators and all the alumnae and students of our schools.
Celebrating Mater in Almagro, Argentina
The boys and girls in first grade at the Sacred Heart School of Almagro, Argentina have drawn Mater and written what they imagine she might be thinking in that image.
Celebrating the feast of Mater Admirabilis in Tarnow, Poland
This year's feast was a chance for our pupils to show what Mater Admirabilis means to them.
Mater Admirabilis, painted by Mexican artist Alejandro Rangel Hidalgo
Alejandro Rangel Hidalgo (1923-2000) was a Mexican artist and painter, furniture designer and blacksmith. His mother, Concepción Hidalgo de Rangel, was very devoted to Mater Admirabilis and her son gave her this painting.
An intercessory prayer from DRC-Chad to Mater Admirabilis
May Mater Admirabilis intercede for the RSCJ and all those who dedicate their lives to the service of humanity.
Malta celebrates the Feast of Mater on October 20, 2021
The province of Malta shares a hymn dedicated to Mater Admirabilis. The hymn expresses her emptying of self and her openness to God's Word, and invites us to follow her example.
Mater at Rosales College in Madrid
"Every year we remember her story and every year we learn something new, because for us, the students, she was painted by Pauline Perdreau. But who was Pauline Perdreau?"
(Introduction of the play La Historia de Mater of the Rosales school)
Brazil celebrates the Feast of Mater Admirabilis on October 20, 2021
The text chosen for our card is an excerpt from the book: Under the Sign of Fire, by Sister Maria Thereza Latgé, RSCJ Brazil.
The Inner Life of Mater: A watercolor by Sophie Maille RSCJ
This watercolor was painted in 2007 by Sophie Maille RSCJ.