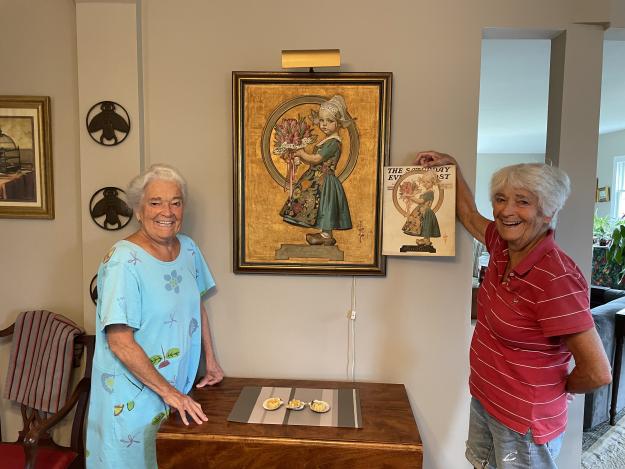 Anne Dyer, RSCJ, will be featured on an upcoming episode of the PBS show Antiques Roadshow. The episode titled "Sands Point Preserve Hour 1" is set to air on Monday, January 24, 2022, at 8 p.m. EST/ 7 p.m. CST.
The road to landing a spot on the show began long ago in 2019, when Sister Dyer and her sister Bee Dyer Gonnella saw an advertisement inviting those in the Boston area to apply for tickets to attend Antiques Roadshow. Tickets were given out by process of a lottery. Initially the pair didn't win, and almost concurrently the show's production halted due to the COVID-19 pandemic.
Fast forward to the spring of 2021, Antiques Roadshow reached out to Sister Dyer and Gonnella and invited them to share the story about their antiquet – an original Leyendecker Saturday Evening Post illustration – as the show would be returning to the area to film. After writing back, followed by multiple interviews with producers of the show, the two sisters were invited to filming in Bretton Woods, New Hampshire. Sister Dyer explained that it was clear by the end of their conversations that the producers wanted to invite them on the show.
Alas, with great regret the ladies had yet another setback and had to cancel their appearance due to one of them testing positive for COVID-19.
Their hopes were not crushed, however, as the show accommodated their unfortunate turn of events and invited them back once more to appear at a filming location three weeks later than originally scheduled in Sands Point, New York.
"The people on the show were exceedingly gracious. They were lovely people to work with," said Sister Dyer.
While the two were able to be on set together, the show only allowed one of the sisters to present the illustration for evaluation and appraisal. Sister Dyer, having done much of the research and leg work to get them on the show, took to the front of the cameras.
She said it was an experience of a lifetime to have the opportunity to participate in this event and to do it with her sister, she marked, "it was something we'll remember for a long time."
Once filming was complete, there was no guarantee her segment would make it to the final cut. With all their luck thus far, it was no surprise when Sister Dyer heard she would be included in the upcoming season.
The summary of the episode Sister Dyer appear on reads, "Discover historical treasures at Hempstead House at Sands Point Preserve, like a Rolex Daytona Cosmograph, a 1926 Leyendecker Saturday Evening Post illustration, and a Donald Duck animation cell! Which is valued at $400,000?"
Antiques Roadshow has been on the air since 1997 and is currently in its 26th season.
Tune in to find out how much the illustration is valued. Check your local tv listings for episode re-runs.