July 14, 2021, marked the 50th anniversary of our Oakwood Retirement Community, located in Atherton, California (on the same property as Sacred Heart Schools, Atherton). Opened on July 14, 1971, Oakwood is currently the largest Religious of the Sacred Heart (RSCJ) community in the United States – Canada Province.
The Oakwood community plans to hold celebrations for this milestone anniversary in the fall.
Did you know?
Frances Danz, RSCJ, R.N., was the first superior and director of Oakwood. In a 1994 issue of "Oak Leaves" – a Society newsletter – dedicated to Sister Danz, read:
"In 1970 Sister Danz was asked to help plan an infirmary and retirement center for the infirm and elderly members of her Society. A year later, when Oakwood, the Health Care Center for the Religious of the Sacred Heart opened in Menlo Park (now zoned "Atherton"), Sister Danz became its first Superior and Director. All recognize that the beautiful spirit of hospitality, the professional nursing care, and atmosphere of prayer and beauty that Oakwood possesses are due in large part to Sister Danz inspiration and leadership."
It later read, "Oakwood's new chapel will be named the Frances Danz Memorial Chapel." The Chapel at Oakwood remains with this name.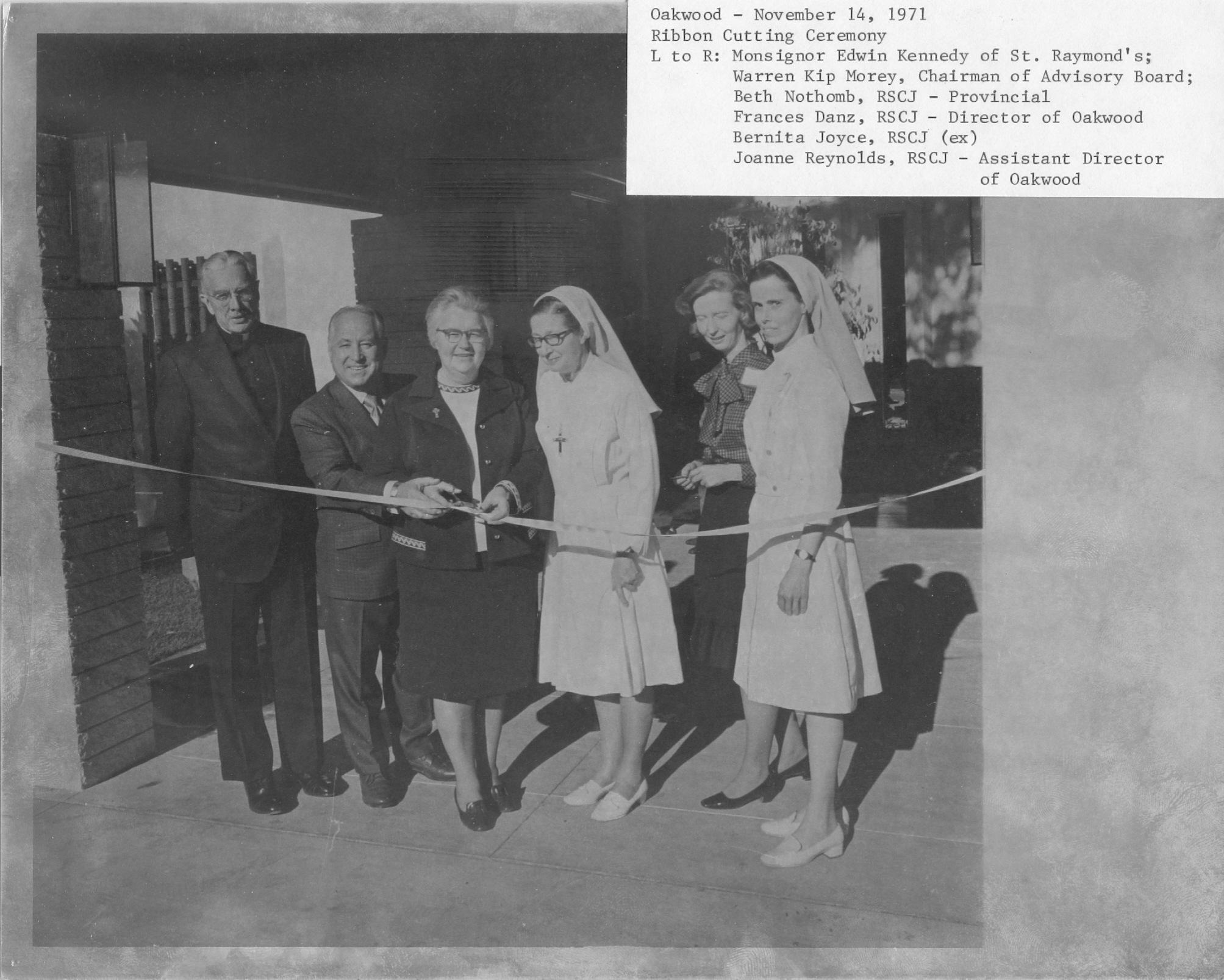 In June 2001, then Senator Hillary Clinton along with Anna Eshoo, the U.S. Representative of California's 18th District (where Oakwood is located), visited Oakwood. Before the planned visit came to be, the sisters at Oakwood had let Eshoo know that they were praying for Clinton. The Oakwood house journal noted that Eshoo was a longtime friend of Oakwood, who "visits often and talks with the community about national and world issues. Her mother attends Mass at Oakwood."
Clinton was in the area for her daughter Chelsea's graduation from Stanford University, and Eshoo asked Clinton if there was anything she could do for Clinton while she was there. Clinton said she'd like to thank the nuns who had been praying for her. So, Clinton, her mother, Eshoo, and Eshoo's mother Alice visited on the morning of June 18, 2001.
Mary Bernstein, RSCJ, wrote of the visit, "Toward the end of the time, I asked Hillary what she would like us to pray for. She said to continue to pray for her family and those who are poor in our country and throughout the world. She said, too, to pray for leaders of countries who are faced with so many issues needing discernment."
Oakwood today
Oakwood, which started out as a single building, has undergone six additions since its opening in 1971. Today, it serves as an RSCJ retirement community and health care center to 46 RSCJ.
The last 16 months have been challenging due to the COVID-19 pandemic and the RSCJ at Oakwood could not have thrived without the incredible work and support of the administrative and healthcare staff at Oakwood.