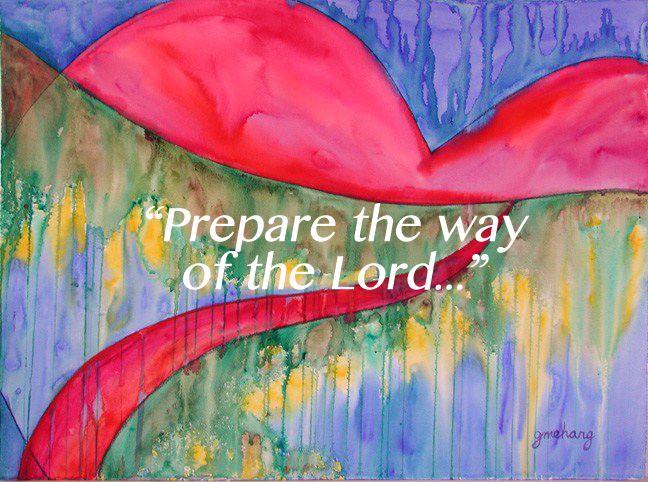 Advent signifies the arrival of something that has been awaited, especially of something momentous. For Christians everywhere the four-week Advent season specifically calls forth the sense of preparation and anticipation for the birth of Jesus. Each of the four weeks of Advent brings a great gift [1]. Gift 1 is the gift of deep longing, the rooting awareness of God's presence in and around us, even in the pain and suffering of our world and lives. Gift 2 is that of God's words of comfort, true comfort in the midst of confusion, pain, loneliness, distance. Gift 3, God's love placed firmly in our hearts, is the call to conversion. A new year is upon us and the seeds of change have been planted. Gift 4 is the hope that lasts, hope drawn from the birth, life and death of Jesus; hope that calls forth courage and confidence.
In her piece entitled "Advent [2]," Janet Erskine Stuart, RSCJ, reminds us that the spirit of Advent is fundamentally a spirit of preparation. Jesus himself, in his teachings and practice, shows us the importance of preparation. We see it in the preparation for His ministry, in the selection of His Apostles and in the sending of the Holy Spirit. Stuart goes on to tell us that ALL of life is a preparation! Perhaps Advent then also serves to remind us of the need for preparation and joyful anticipation in all of life, wherever we may be in our personal and communal life journeys.
"Why this necessity for preparation?" asks Stuart…because we forget and need to be reminded…because we fall asleep and need to be awakened…because we become idle, complacent and need to be stirred up. Stuart goes on to say that "Advent is not like setting back the clock to the time of the Incarnation, not an exercise in patriarchal history, but a real preparation for real events – not for imaginary, but for actual comings of our Lord (in our daily lives)" (p. 5).
So, what kind of spirit is the spirit of preparation? It is, she tells us – alert, expectant, diligent, quiet and patient. ALERT, it is a spirit that is wakeful, vigilant, standing on a height to watch, spiritually attentive, keen, not torpid, watchful for the gentle touches of grace. EXPECTANT because no one is making serious preparation who is not expecting a change, something to happen. DILIGENT because watchfulness for what is coming does not exempt us from present exertion. It impresses upon us all the more deeply the necessity to exert ourselves. QUIET – because preparation is never well made in a fuss. In any public event, if the people are flying about, making arrangements, changing things at the last moment, it is a sign of insufficient foresight and poor preparation. The very object of preparation is to avoid these chance experiences. PATIENT because preparation is spoiled by impatience. Few things are so restless, unsatisfactory and useless as impatient waiting, especially following on hurried preparation, and one of the hardest and gravest lessons is to learn to wait with patience (adapted from Advent, pp. 5-6).
If Advent does nothing more than remind us of the gifts of longing, comfort, love and hope; if it adds any of the qualities of alertness, expectancy, diligence, quiet or patience to our spirit of preparation in life then Advent will have been well-spent. So, in the words of Mother Stuart let us remember, awaken, and be stirred. 
Reflection: Imma De Stefanis, RSCJ
Image: retrieved from Assumption Church of the Blessed Virgin Mary
[1] Adapted from Loyola Press
[2] Prayer in Faith: Thoughts for liturgical seasons and feasts by Janet Erskine Stuart, RSCJ