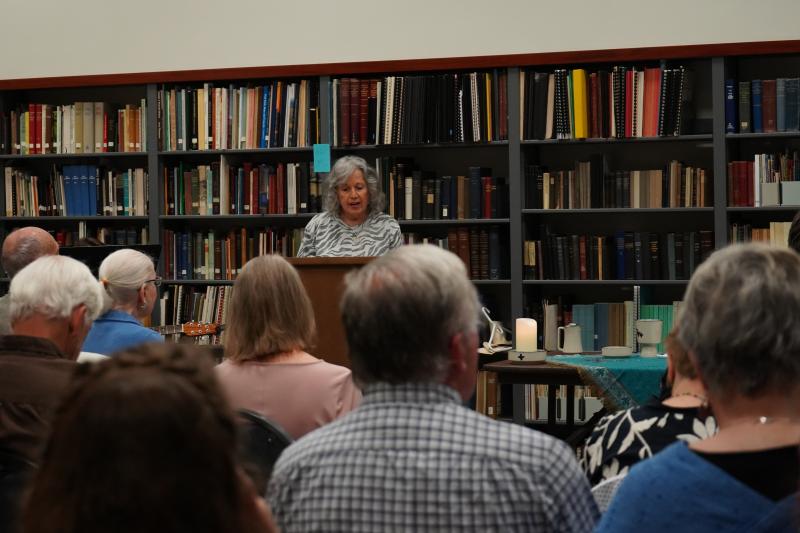 By Julie Siderfin, Associate
St. Charles, Missouri
Julie delivered this reflection at the Associates liturgy and gathering in St. Louis, Missouri, for the feast of Saint Madeline Sophie Barat.
It's all about Love: Paul's letter, Christ's words, Sophie's feast, and this evening's beautiful gathering.
Abide with me. Stay with me. Remain with me.
What an amazing invitation! Stay, for it is here, as one Body, in this present moment, that we discover the Heart of Jesus.
And this very discovery, in mutual solitude, has the subsequent imperative: to reveal the Heart of Jesus. As Cynthia Bourgeault wrote: "A vine is only an abstraction until there are actual branches to articulate its reality!"  Discover and Reveal Love: this is the charism each of us has been gifted with, the legacy from our holy mother Saint Madeleine Sophie.
But where do we find this mutual solitude? We find it now. In stillness. In this liminal space of conscious awareness. Where we are known by the Holy One.
More than once, Sophie referred to this place as "a deep canyon, where the soul can take refuge as often as possible."
Sophie our own mystic and spiritual guide wrote: "The ways of God are unfathomable." Who can understand Love's pruning, Life's realities? Indeed, our own little Society was battered for years, both from within and from without. So too, our own world is badly bruised and tattered. How do we withstand this pruning? What are we to do? How do we live our charism and move into a deep canyon to counter the whirlwind? We have Sophie's example and her words: "We must unite solitude to the work we do". 
Abide with me. Stay with me. Where is your attention? Remain with me. Now.
Close your eyes now for a moment. Feel the presence of those next to you. Rest in that. Know that you are surrounded. Breathe.
Without words, let your love pour out, to that person on your right, on your left. Give a little piece of your heart. Break it. Then, give it away; give your love away, from your broken heart. Fearlessly, outrageously.  And so, it will rise; let your love join with all the immense Love in this room.
Open your eyes slowly, knowing that everything which rises must converge.
There is only One Love. It is your refuge; from loss which is death; from rejection and daily little deaths to the ego. Love is your liminal space, your deep canyon of solitude.
Be mindful of your own wordless longing. It is Love's gift. Catch those touches of the Spirit and return to the canyon, anytime. It's Sophie's legacy to you! Give yourself freedom to be transformed. Now.
Abide with me. Stay with me. Remain with me.
And now as our Eucharistic liturgy continues, we are invited, as one body, to receive Christ's own Body and so to abide, to remain in mutual solitude, with the God of our hearts, forever. 
References:
Jane McKinlay, RSCJ, "Deep Canyons Counter Whirlwinds" seminars on Saint Madeleine Sophie, 2021-2022.
Cynthia Bourgeault, "The Wisdom Jesus" p. 31, 2008
Janis Joplin, "Piece of My Heart", 1969.
Teilhard de Chardin, "The Divine Milieu", 1957