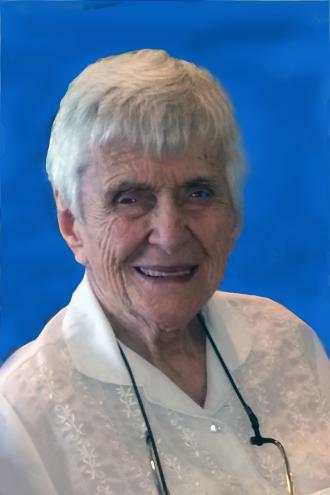 Birth: September 21, 1919
Profession: March 19, 1944
Death: February 24, 2017
A Religious of the Sacred Heart for seventy-three years, Beatrice Brennan, known affectionately as Bea, was born on September 21, 1919, in New York, the oldest of six children of William R. Brennan and Margaret M. Brennan. After graduating from Manhattanville College of the Sacred Heart in 1941 with a BA in Philosophy, she entered the Society of the Sacred Heart. She made her first vows in 1944 at Kenwood, Albany, New York, and her final profession on August 2, 1949, in Rome.
Through the years between 1954 and 1973, while in active ministry, Sister Brennan earned an MS in Educational Psychology, graduating magna com laude from Fordham University, a certificate of Graduate Study in Religious Education from Providence College, Providence, Rhode Island, a certificate in Pastoral Counseling at Iona College, in New Rochelle, New York and completed a teaching certificate in English Literature at the University of Detroit in Detroit.
Throughout her life, Sister Brennan's leadership qualities were recognized. As a student at Manhattanville she was head of the student body. As a religious, although she spent her earliest years as a teacher, she was soon named head of Sacred Heart schools in Detroit and in New York. She then became superior of the community in Noroton, Connecticut, and subsequently at Manhattanville College in Purchase, New York. After a one year internship in education at the Ford Foundation in Washington, D.C., Sister Brennan served as superior and headmistress concurrently at the Academy of the Sacred Heart in Bloomfield Hills, Michigan.
Beginning in 1974, Sister Brennan, a woman with a heart as big as the world, was sent by the Society to Egypt where she spent time both in the classroom in Cairo and with our sisters in one of the poorest areas in Upper Egypt. She studied Arabic extensively and was one of the very few foreigners who could not only speak Arabic but read and write it.
Although she had to come home for health reasons in 1987, part of her heart remained; and had it not been for the tragedy of 9/11, she would have returned in 2001, at age 82. When she returned from Egypt in 1987, she taught English as a Second Language with the Little Sisters of the Assumption Family Health Service in East Harlem, New York, and acted as an advocate for students in the public school system.
In 2002, her eyesight failing and the streets of New York becoming difficult for her to navigate, she moved to Grand Coteau, Louisiana, a place where she could live her love of prayer, of poverty and simplicity of life and where she could help facilitate her sisters' ministries to poor rural folk. In 2006, once again her health necessitated her leaving Coteau, and she joined Oakwood, the retirement community for the Religious of the Sacred Heart in Atherton, California, where she made a lasting impression. A year later, at her New York and Connecticut family's request, she moved to the community at Kenwood in Albany, New York, where she lived until her move to Teresian House in 2008.
Until the end of her long life, Sister Brennan was an inspiration to everyone who encountered her: staff and residents at Teresian House, the many friends and alumnae from all phases of her life who remained in touch with her, volunteers and guests who dropped in and were urged to visit her, and of course her religious sisters who continued to learn from her the meaning of a life totally given in love.
On February 24, 2017, after a very brief illness, Sister Brennan was called home. She is survived by her brother in law, Michael Armstrong of New York and Sea Girt, New Jersey, a multitude of devoted nieces and nephews, and her sisters in the Society of the Sacred Heart.
A Memorial Mass will be celebrated on April 1 at 1:00 p.m. in the chapel at Teresian House. Because Sister Brennan gave her body to medical research, burial in the Kenwood Cemetery will be sometime in the future.
Memorial Contributions may be made to the Society of the Sacred Heart, 4120 Forest Park Avenue, St. Louis, Missouri 63108.