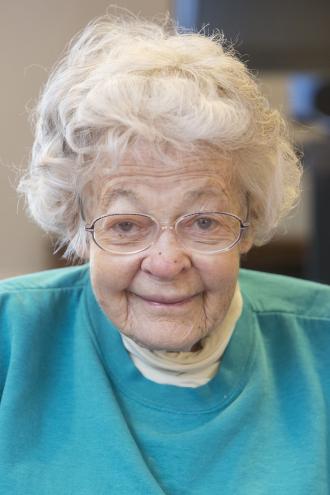 Birth: February 12, 1931
Profession: July 21, 1962
Death: January 20, 2020
Religious of the Sacred Heart, Jean Hunter, RSCJ, died January 20, 2020, in Albany, New York.
Jean Hunter was born on February 12, 1931, in New Rochelle, New York to James Francis Hunter and Rosemary Abbott Hunter. Jean graduated from the College of St. Elizabeth, in Morristown, New Jersey, in 1953, with a degree in math and philosophy. She later earned an MA in Philosophy from Manhattanville College and an MPM in Pastoral Ministry from Seattle University. Jean entered the Society of the Sacred Heart at Kenwood in Albany, New York, in 1954. She made her first vows in 1956 and her final profession in Rome in 1962.
Sister Hunter taught in Sacred Heart schools in the eastern U.S., at the Academy of the Sacred Heart at Grosse Pointe, Michigan; and the Convent of the Sacred Heart at Greenwich, Connecticut. She went on to Kenwood, in Albany, where she taught English and other subjects. In 1972, Sister Hunter moved from the classroom to administration and served as the director and associate dean of admissions at Manhattanville College; and later, in the Diocese of Albany, she was director in the personnel office for the sisters of the diocese. During this time, she also worked at Hospitality House in Albany, in support services to chronically mentally ill adults. In 1980, at the request of the Archbishop of Detroit, Sister Hunter became the delegate for religious, serving as a liaison between the archbishop and non-clerical religious. She spent four years in Detroit and then moved to Seattle, where she worked as a pastoral associate, responsible for educational programs at St. Edward Parish in Seattle. Sister Hunter remained in Seattle after concluding her work at the parish and worked as a case manager at the YWCA in Kent and then in Seattle. In 2001, Sister Hunter moved back east where she supported the communications office at the Community Action Center in Port Chester, New York. As she approached the decision to retire, Sister Hunter was also working, sometimes filling in as director, at the Carver Center in Port Chester, where she was held in high esteem.
Over the course of her life, Sister Hunter served on Society committees, diocesan committees in Albany and Detroit and national organizations. She served as area director for the RSCJ in Detroit (1982-1984), and in Seattle (1987-1989). In 2003, she was elected to serve as area director in Fairchester. Her sisters described her genuine love of people and her collaborative ability and follow through, as qualities needed for community life. 
Sister Hunter struggled with the idea of retirement, but as her energy diminished, she recognized its necessity and moved to the Avila community in 2012. When her health further declined, Sister Hunter moved to the Teresian House community in 2015. For the past months she had been saying that she wanted to go home to God. She was much loved by the staff whom she always thanked for their service to her. Sister Hunter went peacefully to God on January 20, 2020. She is survived by her brother, Anthony "Toni" Hunter (Massachusetts); her sister, Barbara Latu (Pennsylvania); many loving nieces and nephews, and her sisters in the Society of the Sacred Heart.
A funeral mass for Sister Hunter will be held in the Teresian House chapel at 1:00 p.m. on Monday, January 27, 2020.