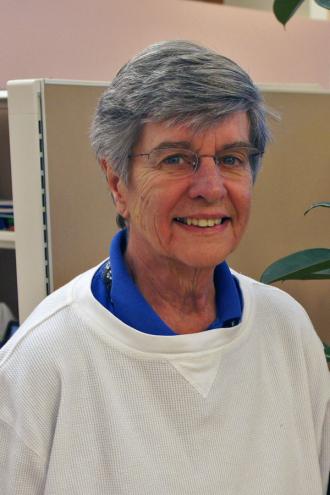 Birth: September 14, 1941
Profession: July 2, 1969
Death: June 18, 2017
Religious of the Sacred Heart, Carol Ann Haggarty, died June 18, 2017, on the Feast of Corpus Christi, in Atherton, California.
Carol Haggarty, a Religious of the Sacred Heart, was born on September 14, 1941, in Chicago, Illinois, to Frank Joseph Haggarty and Marian Grupe Haggarty. One of three daughters, Carol grew up with her sisters Joan and Mariclare. Mariclare died in 2013.
Carol graduated from the Convent of the Sacred Heart on Sheridan Road in Chicago, in 1959. She entered the Society of the Sacred Heart in 1961, took first vows in 1964, and made her final profession in Rome in 1969.
An alumna of Duchesne College, Omaha, she earned a BA in Education in 1968. She completed graduate studies at the National College of Education in Evanston, Illinois, in 1975, earning an MA in Administration and Supervision. She completed a second MA in Counseling Psychology at Loyola University in Illinois in 1979.
Carol's early ministries in the Society were devoted to teaching at the Academy of the Sacred Heart in Chicago and at Woodlands Academy of the Sacred Heart in Lake Forest, Illinois. In 1969, she was named assistant principal and instructor in the middle school at the Academy of the Sacred Heart in Chicago, and subsequently named elementary school principal at the Academy in 1971, a position she held for six years. For the next ten years, beginning in 1978, Sister Haggarty served as high school guidance counselor and member of the administrative team at the Duchesne Academy of the Sacred Heart in Omaha, Nebraska. Following this, Carol was invited to serve on the provincial team with provincial, Rosemary Bearss, for five years beginning in 1988, a ministry she greatly loved. From 1992 to 2001, Carol was headmistress of the Academy of the Sacred Heart, in Grand Coteau, Louisiana, and in 2001, she was named assistant executive director of the Network of Sacred Heart Schools, a position she held for eleven years, first at the Network Office in Boston and, from 2004 to 2012, in St. Charles, Missouri.
Carol has served on the boards of the following Sacred Heart schools: Sheridan Road, Stuart Country Day School (Princeton, NJ), Academy of the Sacred Heart (St. Charles), Academy of the Sacred Heart (New Orleans, the "Rosary"), Academy of the Sacred Heart (Grand Coteau), Duchesne Academy (Omaha) and Villa Duchesne Oak Hill School (St. Louis). Over a period of twenty years, she attended every Network meeting of heads and board chairs.
Her other ministries included being area director for the St. Louis/St. Charles area for thirteen years, and for a number of years she served as director of the Associates in St. Louis/St. Charles. Carol was the go-to person for everything technological; she was also a beautiful photographer capturing the seasons in all of their beauty.
Carol's most recent ministry was that of assistant to the provincial, when she returned to the provincial office in 2012. This role also included managing the provincial office scheduling, hospitality and numerous other jobs. She was the "glue" that held the office together and was the "go to" person for the provincial house staff who came to love her.
Shortly after the first of the year 2017, Carol learned that her cancer had returned and she fought valiantly. When the cancer spread, she made the decision to forgo further treatment and move to Oakwood to enter hospice care. Carol's departure in March was heartbreaking for the provincial staff. As they each said their goodbyes to her in the hospital, her parting words were "to be good to each other." Carol is remembered for her ability to bring people together through her loving spirit and her wonderful sense of humor, which put everyone at ease. Her blue eyes, a window to her soul, reflected a clarity and goodness that drew others to her. We all remember her humor, kindness, gentle and generous spirit. Carol was a wise and inspiring companion on our journey. The words from Father Duffy about St. Philippine Duchesne are perfect ones for Carol: "What have we learned from her? The value of a steadfast purpose, the success of failure and the unimportance of our standards of success, the power of grace released by deep, divine desires and simple duty daily done." Carol's deep spirituality permeated everything she did. She was a student of the Gospel of St. John and prayed with and lived his gospel for many years. John 15, "As the Father has loved me, so I have loved you. Remain in my love…love one another as I have loved you." Words Carol left us to live by.
Sister Haggarty left St. Louis and was received into the loving arms of her sisters at Oakwood, in Atherton, California, who cared for her over the next three months. She was often seen riding her scooter on the grounds at Oakwood and participating in the community life of liturgy, prayer, meals and activities as much as she could; she kept in touch with the provincial staff, RSCJ, friends and family by email and phone. Early in the morning on Sunday, June 18, Sister Haggarty's battle with cancer came to an end when she slipped away very peacefully into the arms of her Beloved.
Sister Haggarty is survived by her sister Joan Eggers (Jim), her nieces and nephews, Michael Eggers (Leslie), Carol Eggers (Brian Haynsworth), David Eggers (Nadia), Susan Eggers (Robert Goldman), Kathryn Eggers (Steven Trumpeter), Paul Eggers (Kristin Krupa), and her eight great nieces and nephews, Michaela and Andrew Eggers, Charles and Nora Haynsworth, Maggi, Louise and Rosie Goldman, and Daniel Eggers. She is survived also by her sisters in the Society of the Sacred Heart. Carol loved her family and enjoyed being with them during the holidays and other special times.
A Memorial Mass will be held on July 22 at 10:00 a.m. at the Oakwood chapel in Atherton, California.
Memorial contributions may be made to the Society of the Sacred Heart, 4120 Forest Park Avenue, St. Louis, Missouri 63108.